Anup Jalota On Jasleen Matharu's Wish To Marry Paras Chhabra: 'He Is Not The Right Guy,' Adds, 'Her Life Partner Should Be Like Me'- EXCLUSIVE
Jasleen Matharu is one of the contestants in Paras Chhabra's Swayamvar, Mujhse Shaadi Karoge. But the lady also made a lot of noise for her affinity with Anup Jalota during Bigg Boss 12. We spoke to the Bhajan singer to ask what he thinks about this union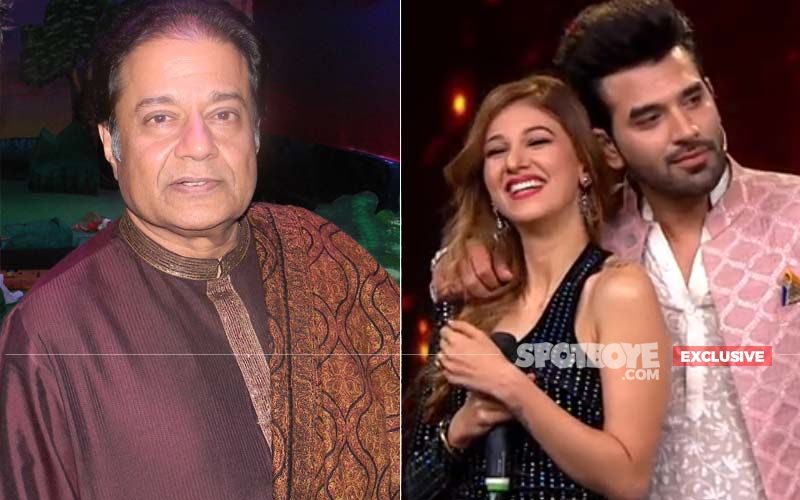 Bigg Boss 12 contestant Jasleen Matharu is making news yet again as she is inside the Bigg Boss house once more but this time for another show- Mujhse Shaadi Karoge. Well yes, as we know Jasleen has participated in Paras Chhabra's Swayamvar.
You may remember, the young lady made a lot of noise for her closeness with Anup Jalota while she was locked in the house in the last season of Bigg Boss. They even had a romantic date, organised inside the house by Bigg Boss. So, we decided to speak to Anup Jalota to know what he thinks about Jasleen's decision to participate in this Swayamvar. Excerpts from our conversation below:
Jasleen Matharu is planning to get married on a reality show...
Really! I didn't know about that.
She didn't discuss it with you?
She called me few weeks ago and said, "Anup Ji, I am participating in a reality show again for which I will be occupied for three months. So, we have to delay our film (Vo Meri Student Hai) schedule." I asked her if the show is important and she said, "Yes, it's a good opportunity and this will help our film too."
So you immediately agreed?
Her father, who is also directing our film, called me and said that Jasleen has taken up a show. So, in her absence we will shoot your part. I was fine with that.
Have you watched any episode of Mujhse Shaadi Karoge?
I haven't got time to watch it but I have heard it's a good show and Jasleen is doing a good job there. This morning also when I landed in Lucknow, a few people came to me and said Jasleen is looking very nice on the show and she has given a befitting reply to someone that Anup Ji is my guru. So, I also told them she is right. I am just a guru to her. Whatever you all saw on Bigg Boss 12 was just drama.
You mean to say you had no feelings for her?
Not at all. In the very first episode, I told Salman Khan that my student is also here as a participant. I don't know why did she claim that we are into a relationship. But then, I also continued inside similar way as I thought ab toh show mein aagaye hain aise hi maintain rakh lete hain, dekhte hain audience kaise react karti hai.
Paras Chhabra's love life has been very controversial. He was in relationship with Akanksha Puri and at the same time started expressing love for Mahira Sharma. You think he is a right partner for Jasleen Matharu?
I don't think he is a good guy for Jasleen. If he was two-timing and clearly accepting on a reality show then I really don't feel Jasleen should even think of marrying a person like him.
If you get a chance would you like to go and correct her?
I will definitely go and tell her that he is not the right man for her, if he is actually disloyal.
What qualities should Jasleen's life partner have?
He should be just like me- soft in his behaviour and focused in his work. The one who respects his wife and makes her feel equal.
Jasleen wanted to settle down since a long time?
Yes. In fact, her father and I are already looking for a guy for her. We have found a person who is settled in abroad but it's at an initial stage, so we can't tell you anything about it.
Then why has she participated in the show? Is it just another drama for a show like Bigg Boss?
I have no clue about that.
Sanjjana Galrani, Jasleen's co-contestant has questioned her for wearing short clothes. What you have to say on that?
No one has the right to question her for what she is wearing. This can be asked only by her boyfriend, husband or parents. She can wear what she is comfortable in.


Image Source:- instagram/jasleenmatharu