Anupamaa's Vanraj AKA Sudhanshu Pandey REACTS To Rumours Of Cold War With Rupali Ganguly, Getting TROLLED And More- EXCLUSIVE
In an exclusive interview with us, Sudhanshu Pandey gets candid about his show Anupamaa, playing Vanraj and equation with Rupali Ganguly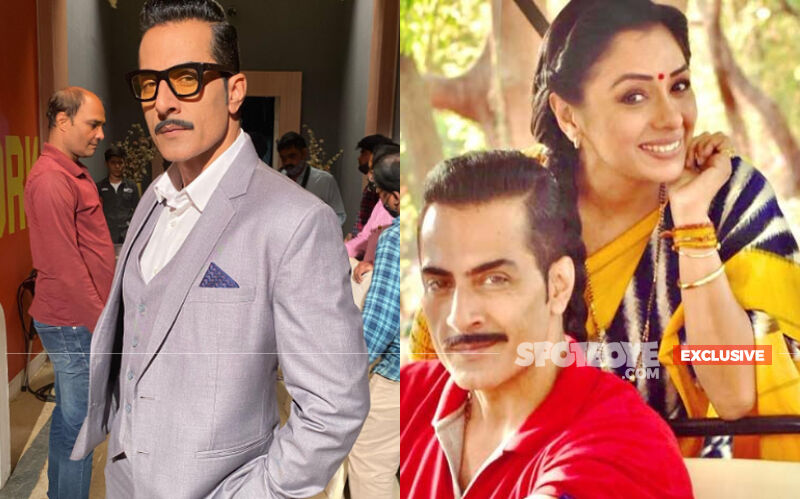 Model-actor Sudhanshu Pandey has won many hearts with his brilliant performance in Star Plus's ongoing show Anupamaa. His portrayal of Vanraj Shah has managed to strike a right chord with the audience and has earned the actor a household name. In a recent interview with SpotboyE, Sudhanshu opened up about his character, getting trolled and receiving hate for playing Vanraj and much more. The actor also dismissed reports of a rift between him and costar Rupali Ganguly, saying they both 'laugh and joke' on the sets.
When asked about how the show and character of Vanraj have helped him to evolve as an actor and person, Sudhanshu shared, "The response that Anupamaa has been getting is like a blessing, we knew that the show will do well and leave an impact but did not expect such a humongous response. Playing Vanraj Shah has been a very faltering character for me to play. I have always played very good characters but talking about Vanraj, I would say that when you work in a daily soap, what happens is that your character gets very monotonous and then you stop enjoying it but with Vanraj I was lucky that it's so phenomenal with many layers to it. It's a very unpredictable kind of character who has gone through a lot and he does everything for his family and there is nothing selfish about him. This character has given me a constant challenge to deal with different mindsets, emotions and circumstances. As an actor, Vanraj has given me so much and has helped me to grow as an actor." ALSO READ:
Anupamaa's Sudhanshu Pandey Aka Vanraj On Being Trolled By The Show's Fans; 'They Start Believing That My Character Is Real In The Show'
Speaking about getting trolled because of his character, the Band of Boys actor explained, "I have done over 45 films, all small to big, good to bad. Every sort of movie I have done. I had a huge fan following from the time I was part of A Band of Boys so I have seen a crazy fan following. But I have noticed that there is a vast difference between a fan following television and a film have. In TV, I have realized what happens is that television fans have a huge level of attachment to your character and since they watch it every day it becomes part of their lives and then they start believing that it's real. So, they tend to believe that Vanraj is such a bad man that they end up commenting negative stuff on my social media. After all, I am a human being so I do feel bad, angry and hurt. And people still troll and say negative things despite I am putting in so much effort to perform and give my best. So, it feels bad when people react to it negatively."

Further, we asked Sudhanshu Pandey about the rumours of a cold war between him and Rupali and also quizzed him about not featuring in each other's social media posts. "I feel all these rumours of the cold war between me and Rupali Ganguly must have been put to rest since, on her birthday, we all enjoyed together. We were dancing, people saw me and Rupali laughing together and having fun in the photos that were shared online from her birthday bash. I hope now all these baseless rumours are put to rest because they are no truth to them. As far as our social media posts are concerned, Rupali shares a lot of reels with her onscreen partner Anuj and I post stuff with my partner in the show Kavya so it's natural and professional, nothing personal," the 47-year-old actor further stated.
Sudhanshu signs off by saying, "You should come to our sets and see how I and Rupali bond with each other behind the camera. We are always laughing and joking. We both have so much fun on the sets."

The actor is currently busy promoting his upcoming web show 'Anupama Namaste America', which is a prequel to his television show 'Anupama'. The 11-episode series will take the audience 17 years back into Anupama's past and will begin streaming on Disney Plus Hotstar from April 25.
Image Source: Instagram