Asha Negi: "Many Of Them Think That Rithvik And I Are Already Married"
Asha Negi who recently made her digital debut with ALTBalaji's Baarish got talking with SpotboyE.com about the show, her relationship with Rithvik Dhanjani, doing bold scenes and much more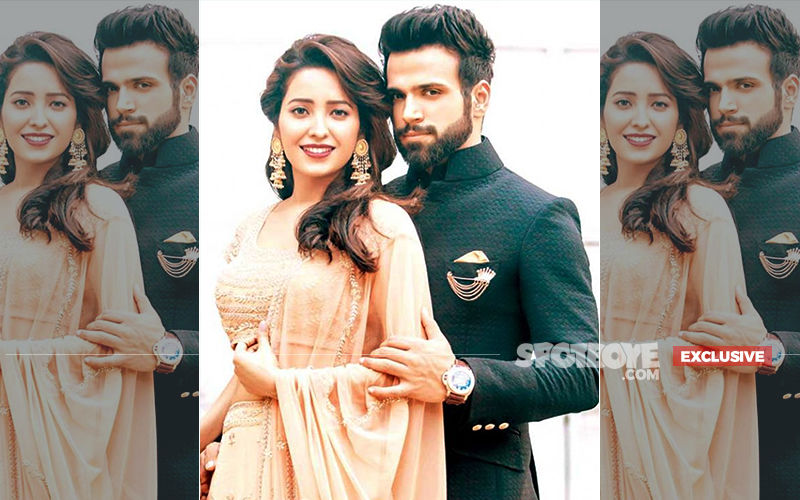 Pavitra Rishta actress
Asha Negi recently made her digital debut with ALTBalaji's Baarish that stars Sharman Joshi opposite her
. The show has managed to get love from the audience. We engaged in an exclusive chat with the actress wherein she not only spoke about her comeback and digital debut but also opened up on how she dealt with the trolls and also addressed the neckline controversy. Asha who is dating actor Rithvik Dhanjani also explained how
she feels when it comes to doing bold scenes
and even reacted to news of their marriage.
It's after a long time that we are seeing you back on the screen. What kept you away from work?

So from some time I didn't do much in acting because I didn't want to take up any random project for the sake of it. I was actually waiting for something which can click my mind. And it was also because in television the last two projects which I did, went off air in a month's time. Of course they were replacements that I did. So somewhere down the line, I feel that it was my mistake although I don't regret it. I took it as an experience of not repeating it again. All this was the reason I became little skeptical about choosing a project. It wasn't the first web show for which I got approached. There were offers but I didn't want to take them up because I felt sex scenes were purposely involved. So that didn't make me feel like doing those projects but when I got approached for Baarish, I think the simplicity of the show convinced me to take it up. There is no violence and nudity in the show which we often get to see on digital space. Two days before the shoot, I was actually reading the screenplay episodes and I feel glad it's been executed the same way. I am happy that I did it.
What do you feel went wrong in your last two projects which failed and went off air in a month?
As an actor, I gave my 100% to the shows. It's just that those were not fresh shows. Those were replacements which I did. Don't know the real reason but all I can say it was destined like that. It could have worked also but aisa hua nahi. I have no regrets but I want to be careful with my future projects.

Do you think fans have taken your pairing with Rithvik so seriously that they don't accept you with any other actor now?
As an actor if you ask, just because fans are loving any of your characters it doesn't mean that you will not experiment. As an actor I want to flourish with new things. As till the time an actor doesn't challenge his or her own skills, there is no fun. Undoubtedly mine and Rithvik's chemistry was loved by our fans. In fact, they still love it. But, it doesn't mean that I will stick to that only. I will keep doing new things.
ALSO READ: BEST DRESSED & WORST DRESSED Of The Week: Jennifer Winget, Divyanka Tripathi, Karishma Tanna, Aashka Goradia Or Shama Sikander?Are you ready to attempt bold scenes on the digital space?
I will definitely do bold scenes if the script demands but on one condition that it should make sense to the story-line. The previous offers which I got in web space while reading the scripts, I realised that unnecessarily they have included steamy scenes which weren't required. I don't mind doing such scenes but the show and story should be up to the mark for me to say 'yes'.
In that case, what do you want to say about Rithvik's XXX which got released on the digital space?
Frankly, I don't know about Rithvik but initially I was very skeptical about me and him doing such scenes. But with time, I realised that we are actors and we have come to a place where you really can't expect or do anything of your choice. Every single day you have to challenge your own performance. So if he or me do any bold scenes I don't think I will ever be affected.
Rithvik also has the same support for you?

Yes, yes. Totally.
You recently got trolled for your low neckline dress on social media. Did it affect you?
Not at all. Haters who are sitting on the other side of the screen doing nothing used to find some or the other reason to troll me. And you know what! Now, I have found a way to deal with it. Whenever I read any derogatory comment on me, I laugh it aloud. But I won't deny that initially, I used to get disturbed reading such stuff about me.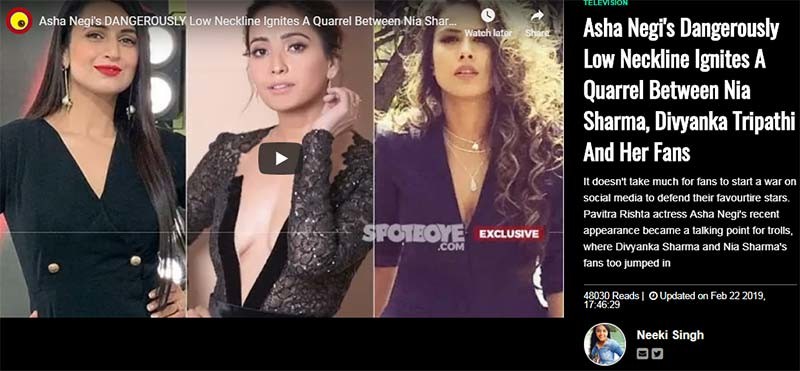 Any hate comment which is still stuck in your mind?

There was a phase when I was not doing anything solid in fiction, and people started calling me jobless. I used to feel like asking them, 'Who are you?' Honestly, their comments made me doubt myself and often raised questions in my mind, "Am I actually jobless?"And it hits you hard and does mess with your brain.
Divyanka came to your rescue on this though...

I think it's me who is going to decide what will I be wearing and if I am comfortable or not. You are nobody to tell me that and I am really glad that amongst all of us, it was very sweet of Divyanka to come out and support me. Frankly I was not affected by my haters on that subject, but I really appreciate and admire the fact that there is a unity amongst us actresses that we stand for each other when required- especially when people come and spread hate comments.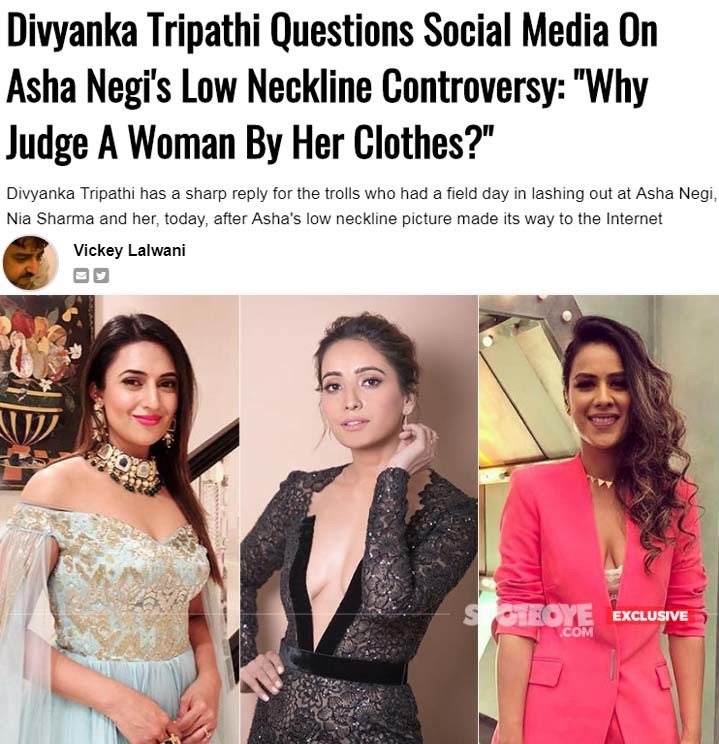 What is making you experiment with your look these days and turning fashionable day by day?

I would like to give whole credit to my team. They pushed me to try and not to shy. And believe me, now with time, I feel more confident and happy in the whole transformation of my look. Being with the right people who want to see you grow and flourish is the actual mantra behind it.
How do you and Rithvik react to your marriage rumours?
Me and him start laughing whenever we come across any such news. And we tell each other that we don't know that we are getting married and these people know of it. How come? (Laughs). Kuch logo ko to yeh bhi lagta hai that we are already married and hiding our real relationship status. But we really can't help it if they are thinking that way.
So when are you guys actually planning to marry?

Right now there are no such plans. Abhi nahi hai mann!
How was your experience working with Sharman Joshi?

I never tell Sharman on his face that 'you know you are such a good actor'. I have never done that. And he is also very chilled out and never gave me a feeling that he is such a senior actor. He is very friendly by nature and I think that also helped us to showcase our chemistry better on screen.
Which is your favourite film of Sharman?
All his films be it Style, Rang De Basanti or 3 Idiots, I loved them all. He is a fantastic actor.


Image Source:- Rock-cafe