Bigg Boss 13: Sonal Vengurlekar HITS BACK, 'Asim Riaz's Brother Umar Is Badtameez And Shruti Tuli Is A Liar'- EXCLUSIVE
Enough is happening ever since we broke the story of Asim Riaz dating Shruti Tuli. Even his brother Umar Riaz's friend Sonal reiterated our stance which led to a BIG FIGHT between Sonal and Umar. Now, in an exclusive chat, Sonal HITS BACK at Umar and also quashes Shruti's claims that she spread false allegations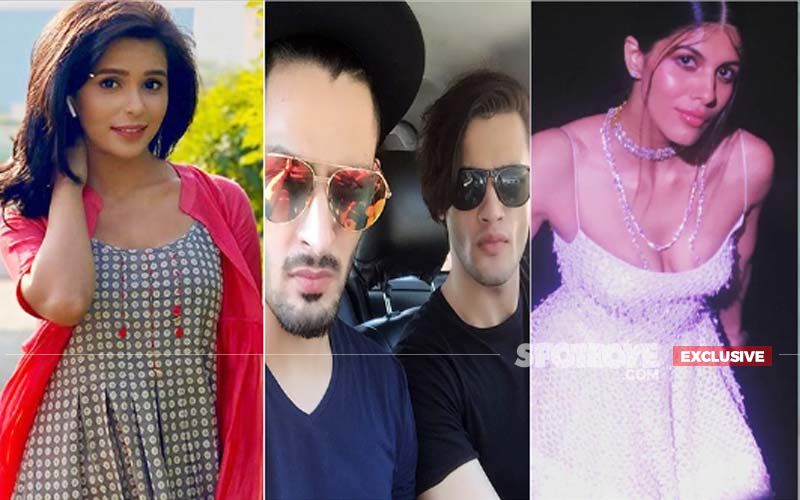 This morning, we brought you Umar Riaz's good friend Sonal Vengurlekar's revelation about Asim Riaz and Shruti Tuli's live-in affair. Umar didn't like it and next thing, he and Sonal exchanged some unpleasant words on chat wherein he called her a 'Chhappri TikTok Star' which she naturally didn't take lightly and leaked the messages on social media. We got in touch with the actress to know what went wrong and here's what she told us:

What made you share Umar Riaz's chat screenshots on Twitter?
After my interview wherein I disclosed the game plan of these brothers (Asim and Umar), he messaged me saying that what I have done is not right and I will have to pay for it. So I replied him that I have just spoken the truth and I have no regrets.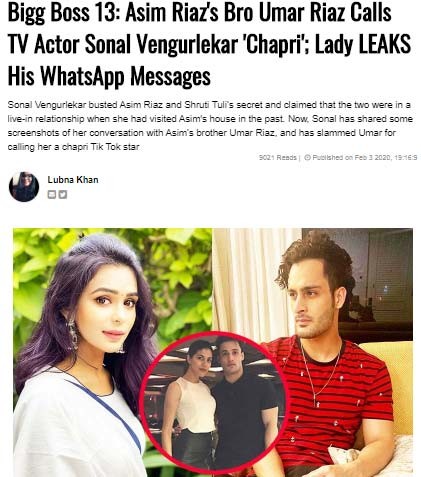 Please continue…
Then, he got irked and started calling me a 'Flop actress and a Chhappri TikTok star' to which I replied that at least I'm known for the work I have done in the industry unlike him whose identity is limited to be Asim Riaz's brother. After that, he blocked me. So, I decided to go on social media and expose him. He is badtameez who doesn't know how to talk to girls. He has been messaging me and then deleting it. It just goes to show what a coward he is. Even fans of Asim have been messaging me terrible things.
Can you elaborate?
They were commenting on my page that I got no Twitter followers and that's why I have been doing this. Some of them even tagged my previous article where I had spoken about the #MeToo movement. They called me an opportunist who has filed a case against Raja Bajaj. I don't care about these things or else I would have never come out in the open. I don't need any attention. My hard work is enough to speak for itself.


Shruti Tuli claims that you spread false allegations of her dating Asim, only because you wanted to do Bigg Boss…
Well, I have been saying it in all my interviews that I want to do Bigg Boss. Then, why would I need her name to do this?


Again, she is lying because I have met her at least 4 times at Asim's house. And that's how I know where they used to reside. In fact, we all have gone for outings together.


Image Source:-Instagram/sonal_1206/umarriazz91/shrutituli