This couple is bound to give you relationship goals. Hiten Tejwani and Gauri Pradhan, who have been married for 12 years, are one of the 'it' couple of television industry. After starring together in an ad, the couple won hearts and became 'THE JODI' when they starred in Kutumb. On Valentine's Day, SpotboyE.com exclusively spoke to Gauri and Hiten about love, life and lots more.

While Gauri thinks Hiten is worse than their twins and difficult to handle, Hiten is a self-confessed joru ka ghulaam. Here's their conversation with some nok-jhok:

12 years of marital bliss! How has the journey been together?
Hiten: Yes, it's been 12 years but it feels like yesterday. Every day is a new day, we discover new things each day. And every morning I come to know that I have done something wrong (Laughs).
Gauri: More than anything else, you get in a habit of seeing that one person every day. But it feels that I have three kids – our twins and Hiten. He is worse. I can at least shout at them and give a stare but can't do the same with Hiten.

Why do you say so? Is he really worse than your kids?
Gauri: He just got a shouting from me before coming for this interview. I think every wife has this complain with her husband when things are not kept organised. Even my kids know where to keep what. Every day he will open the closet, take out his clothes and forget to close the cupboard. I have to tell him the same thing every day.
Hiten: In order to keep the clothes organised while taking out the required item, I forget to close the closet.
Gauri: Yes, but if I can do, why can't you?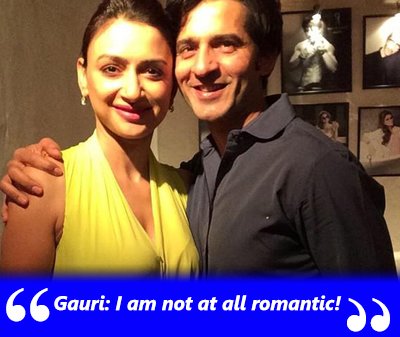 What are the qualities which attract you to each other?

Gauri: He is a very simple guy from a simple family who believes in simple living. He is genuine at heart. He talks a lot, so much that sometimes I just tell him to shut up. He is non-stop entertainment.
Hiten: Isn't that great? You don't have to switch on the TV for entertainment.

Who is more romantic?
Hiten: It has to be me, look at her face! Does she look romantic at all?
Gauri: Yeah, actually I am not!

So, what's the most romantic thing you have done for Gauri?
Hiten: Gauri loves lilies. Earlier I used to get her flowers every day but when they dry, it becomes a mess. So, it's been quite some time I didn't get her flowers.
Gauri: When we got married, for a few years, he used to get flowers for me every day. The wives around me used to tell their husbands 'learn something'. However, after kids, it has become a bit less but he makes an effort.

How have you evolved as a couple?
Hiten: I don't think I have evolved. I don't know about Gauri.
Gauri: We have become very comfortable with each other. As years pass, you just learn to let go of things. And once you have kids, everything is about them. We had enough time to ourselves before our kids were born. Now our time is entirely theirs.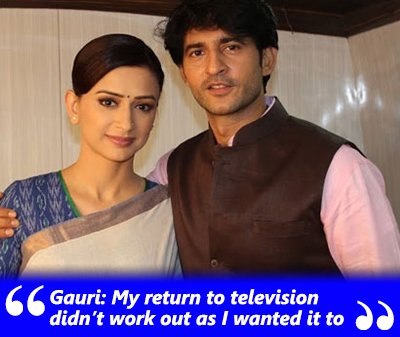 Who do the kids come to when they need permission about something?

Hiten: They rarely come to me. Because whatever I tell them to do or not to do is irrespective. Gauri has the final call. Otherwise, waha se awaaz aati hai, 'NO' aur phir kahani khatam.

How has motherhood been so far?
Gauri: It has been excellent but the first three years with the twins was difficult. Working for me was out of question. While Hiten was working continuously, I had to be with the kids. Once they turned five, I took up television but that didn't work out as I wanted it to. Coming back to motherhood, I am a strict mom. I want my kids to participate in all extracurricular activities.

What keeps the spark alive?
Hiten: You just need to listen to your wife. The spark will be alive!
Gauri: Half the battle is won when you're friends with your husband. There are ups and downs but that is part and parcel of life.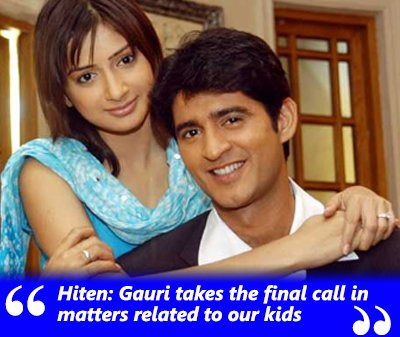 What is Hiten's most annoying habit?

Gauri: I call him Ganpati bappa. If I go out and Hiten is at home, when I come back, Hiten will be sitting at the same place. Be it 2 hours or 10 hours, he'll be sitting at the same place.
Hiten: (Laughs) I move around less to avoid damage. If something goes wrong, she will again scream at me. So, I don't do anything and just chill at one place.

It's Valentine's Day today! How will you define your love for each other?
Hiten: I know that if I just look into her eyes, she'll understand. When we started dating, interestingly we never proposed to each other. There was an understanding that we will be together. I am lucky to have her.
Gauri: I am blessed to have him in my life. I couldn't have asked for better.

Thumbnail Image Source: media