Khatron Ke Khiladi Contestant Jasmin Bhasin EXCLUSIVE Interview: Fans Compare My Looks With Katrina Kaif And I Feel Amazed
SpotboyE.com caught up with Jasmin Bhasin for an exclusive chat, ahead of the telecast of Khatron Ke Khiladi Season 9. She spoke about being a cry-baby on the show, comparisons with Katrina Kaif and lots more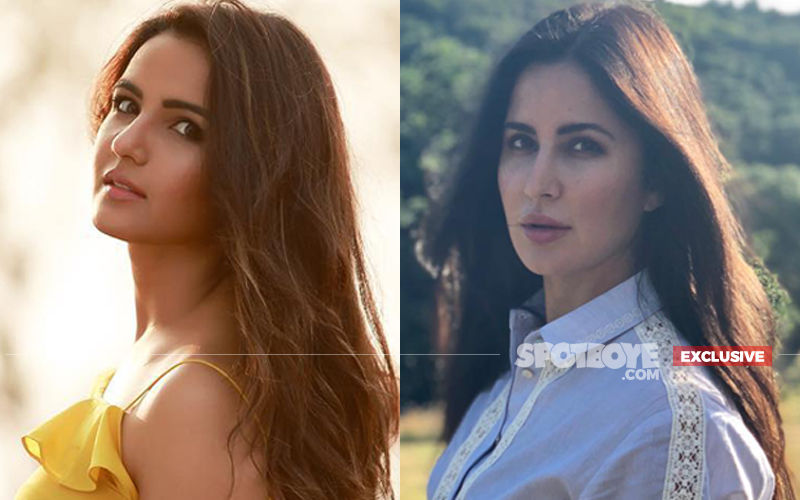 Dil Se Dil Tak actress Jasmin Bhasin is all set to entertain her fans with the reality show Khatron Ke Khiladi. When we caught up with the actress for a quick chat, she made a lot of revelations about being a cry-baby on the show, comparisons with Katrina Kaif, getting trolled for her hot pictures and on Sreesanth acting fake in the Bigg Boss 12 house. Here are the excerpts:


One of your biggest fears that you overcame during Khatron Ke Khiladi?
My biggest fear was obviously the fear of heights that I overcame. And there were so many moments when I used to feel like I won't be able to do it and I should back out but then kar leti thi. And then I used to feel 'yes, I can do it'.


Any stunt that is still lingering on your mind?
The stunt when they threw me from the mountain into the chilling waters and I had to catch a net. Forget about the net, I didn't even knew where I was! After rolling here and there, I fell down to a place where not even the cameras were placed (laughs).


Who was the cry-baby of this season?
Very shamelessly, I can say that I was the biggest cry-baby on the sets. I don't even have a count of how many times I cried. I feel I was crying all the time.


Amongst all the contestants, who all are there in your friends list now?
I think all of them are my friends. I don't think anyone was there whom I can't call a friend. I had such amazing co-contestants that when I used to cry everyone used to have tears in their eyes. They used to make an effort to cheer me up and make me laugh. But yes, I have the most amazing bond with Haarsh-Bharti, Aly and Punit.
While you shed tears on the show, now you have a big responsibility to make people happy with your new show.
(Laughs) In my normal life, I am a very happy person. I personally believe 'kaatni to hai zindagi so toh rokar kyun haskar kaatni chahiye'. Life will become easier. In Khatron Ke Khiladi, I used to cry seeing the stunts otherwise I am a very happy-go-lucky person, chilled out in short. Even if I cry in real life, you will see a smile on my face.
Your fans called you Katrina Kaif's lookalike. Your thoughts?
It's an amazing compliment because I have always loved her. I have been a big fan of hers. She is a gorgeous woman. I really love the way she carries herself. She is a very successful actress. So it's an amazing compliment for me and I love it when people compare me with her.
One thing you would want to quit now, as we head towards the new year?
Eating unhealthy food. I will try but I don't know if that will happen. As I am very bhooki and I love food (laughs).


Trollers attacked you with nasty comments on your hot photoshoot sometime back. Does it bother you?
No, it doesn't affect me anymore. Because over the years, I have realised that it's better to be who you are. First, you have to accept yourself, then only the world will be able to accept you. And if they don't, I don't have any problem. I don't mind if people are not liking me. What I am? Who I am? I will do what makes me happy. My confidence makes me feel happier and sexier. There is nothing wrong about feeling good for yourself.
Who are you rooting for in the Bigg Boss 12?
I am very much watching the show but I don't want to take any particular names. But then, I am liking Dipika, Sreesanth, Romil and Deepak. Deepak is a smart man. And people are taking his smartness in a wrong way. We all have come from different backgrounds. We all have a different journey. We all have different reactions to certain situations. All that matters is the timing so we shouldn't have that hatred. They are just playing the game so we should respect and motivate them in whatever they are doing.

Do you find Sreesanth fake?
He is short-tempered but he is very sensitive and an emotional man is what I have realised in Argentina while shooting with him for Khatron Ke Khiladi. And I have seen his sides. He is not being fake when he says she is a woman and you need to respect her or take care of her. That's his chivalry as a man. That yes, we are delicate, mentally we may be strong, but we are delicate. I don't think his emotional or sensitive side has any fakeness to it.


Image Source:Instagram/jasminbhasin2806,katrinakaif