Bigg Boss 13's Madhurima Tuli INTERVIEW : 'Vishal Aditya Singh And I Are Still In Love'
Madhurima Tuli was shown the door from Bigg Boss 13 due to low votes and also her violent episode with ex-lover Vishal Aditya Singh added fuel to fire. Now, the show is over but the memories remain. In an exclusive chat with SpotboyE, the actress spills the beans on her current equation with Vishal and lots more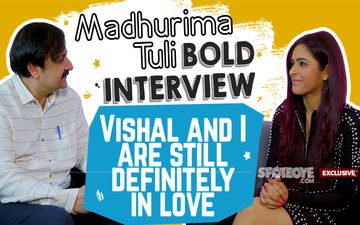 None can possibly forget the BIG FIGHT between exes Madhurima Tuli and Vishal Aditya Singh in Bigg Boss 13, when she smacked him with a frying pan, after he provoked her. It led to her ouster from the show. Now, in an exclusive conversation, Madhurima talks about her current equation with Vishal, her rapport with other inmates of the show and Sidharth Shukla being declared as the winner of BB 13.


How much has life changed post eviction from Bigg Boss 13?
Honestly, it has changed a lot. It has become calmer now. I mean I was always calm but somehow things changed inside the house and I realised that you cannot be so instinctive in your decisions. You need to take 10 seconds with yourself and then decide what you want to do. So that has made me more mature and reasonable with my things. Otherwise, I think people have appreciated whatever I did in Bigg Boss and they have also hated me. So, there are both the sides. I'm enjoying this phase. Also, post the show, I can say that people have started recognising me more.
You're talking about becoming calmer. Were you more aggressive in your earlier days or after that?
No, like I said, I used to be very calm before. In fact the people who know me said 'You were not like this. What happened to you in Bigg Boss?' So, I think it was like an entertainment factor. It wasn't aggressive. If people were pouncing on me, I would give it back. Everybody was aggressive. But, I came out in a wrong way with violence.
What do you make of the comments that came your way? Anything that has registered or stayed with you?
I don't really bother much about the comments because if I get bothered, I'll be screwed. So, I prefer taking my own decisions through my mistakes. I have realised that maybe I have done something wrong but whatever happened, it was in the heat of the moment. So I have learnt my mistake and I want to move on. It happens.
You are doing a show with Vishal Aditya Singh called Salaam-E-Ishq. My question is why, after the violent encounter in BB house?
In the finale of Bigg Boss 13, we had a performance together and everyone loved it. So I don't want to be tagged as just the violent girl. I want to be known for my work. It's just not the fights that we've had, we have given good work, shared chemistry on screen as well. So I thought let me do this because it's Salaam E Ishq, celebration of love.
When you and Vishal meet each other on the sets, do you guys talk and exchange pleasantries?
We do. Now it's much more calmer. We both have realised our mistakes and we saw our journey in the house. We could have survived longer there. So that's why we thought that at least professionally, we should be much more cooler towards each other.
Do you think the makers are also milking these pairs? They also get a chance to translate it into more money...
As long as we are comfortable doing it and it's not looking vulgar, I don't think there is any harm. And if we both are getting benefit out of it, then why not?
In my interview with Arti Singh, as a concluding statement she had told that she feels you and Vishal still love each other, but you'll have crossed all lines this time. So for the first part of it, is it true?
Definitely, we were in love, we are in love that's why we have stretched it this far. I think everybody has problems in their relationships, it's just that ours became much more on the face. And we are very real and honest. So that's how it came across. But, we don't want to make a fool of ourselves now. So we are just taking one step at a time. We don't want to conclude on anything. Let's see how it goes. If it gets out the worst in us, then I think we are not meant to be together.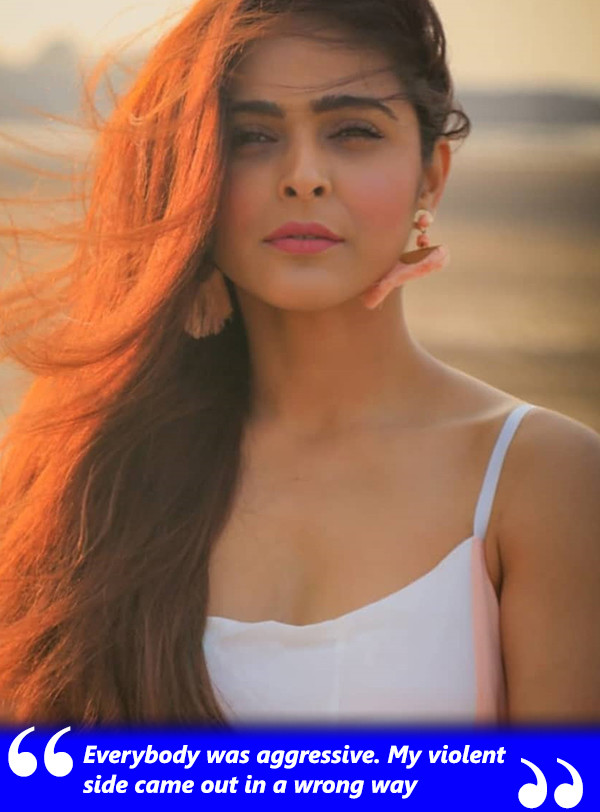 Feelings sound deeper, but you don't rule it out right, getting back with Vishal?
I have no idea. As of now, we haven't given it a thought. We are just taking it professionally. We are trying to be friends now because our relationship didn't work. Everybody has fights, and I think if we have shared that kind of love together, then we should forgive and move on.
Before coming back to your equation with other inmates in BB13, tell me, are you getting offers from the OTT platform?
Yes, I am getting offers but I'm not too keen right now. So I'm waiting for a good project to come my way. Hopefully, something nice will come up and you will see it soon.
Have you earmarked that you just want to play the leading lady?
See, even in the OTT space, there are lots of genres. Some of them demand you to do bold scenes, but right now, I don't feel like doing intimate scenes because I had done a show in which I had done bold content. So after that, I decided to take a backseat. I'm now looking for projects that have more content and not only bold scenes in them.
Is the fear of getting typecast in such roles or is it something when you saw on screen and it made you cringe?
No, I would say I'm not comfortable at this stage in my life.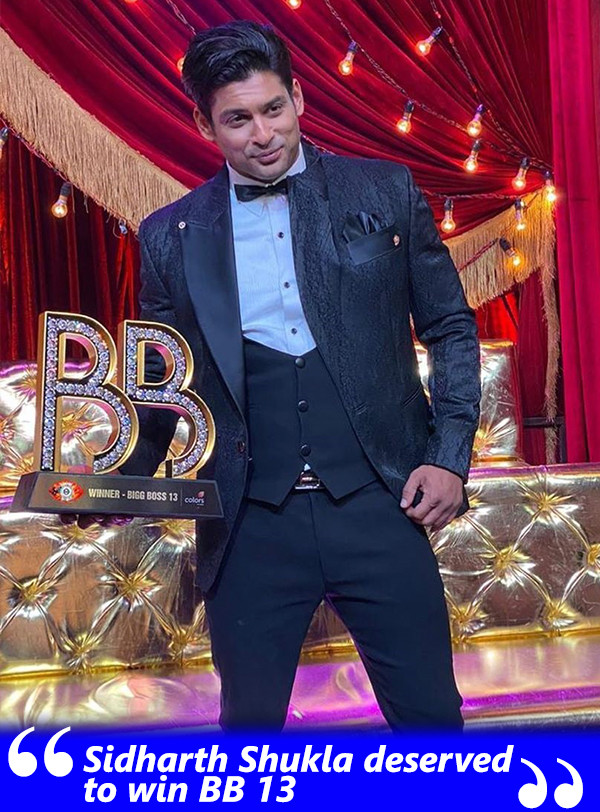 But you have done this kind of content before...
Yes, but now when I think of it, I feel I could have avoided it because it wasn't necessary. I would even say that my co-star Mrunal Jain was a fantastic actor. But once that I have done this kind of content, I don't want to do it again. It has to be a brilliant director like maybe an Imtiaz Ali, Anurag Kashyap, only then would I be tempted to do it.
Coming back to your equation with BB13 co-contestants, you made good friendswith Asim Riaz, Rashami Desai in the initial stages. Are you in touch with them?
No, I'm not in touch with them. I met then during the finale episode. We didn't really try to get in touch.
You felt for Rashami when she went into trauma after Arhaan Khan's personal life was exposed...
Yes definitely, I felt for her. Because I really felt bad for what she had to go through on National TV. It should not happen to anyone. I was there for her. I treated her as my friend. She is a nice, sweet girl.
You had zeroed down on 4 people when I spoke to you last time and all of them turned out to be in the Final 4- Sidharth, Shehnaaz, Rashami and Asim. Why do you think the other 3 didn't win?
I think Rashami was holding back somewhere. She was just not enjoying the process. She was scared of being more real. She tried doing stuff like chori karlena and all. Somehow, others did much better than her.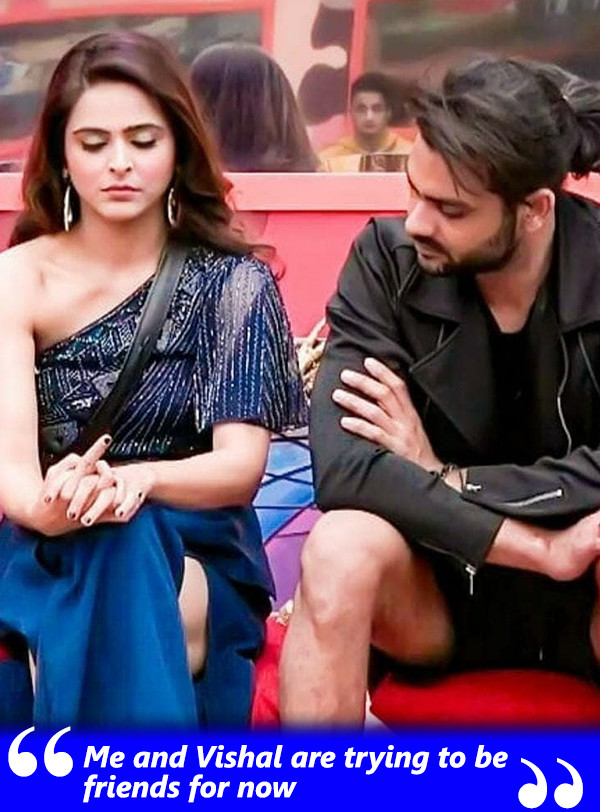 Why did Asim not make it?
I think he already made it. Aisa nahi hai ki jeetna hi important hai. It's the people you remember in the show. Those people win the show. So I think he has made his mark. He is doing music videos with T-series. What else do you need?
What about Shehnaaz?
Shehnaaz has also made a mark. She is doing another show with Colors. It's how you take your journey throughout the show that matters.
About Sidharth winning the show, some people felt it was biased, unfair and others even thought the show was rigged...
It wasn't rigged but I think Sidharth was the most known face out of the lot. He has helped Asim and Shehnaaz to reach there because they had a bonding together. He was already up there. They came much later. Had someone else won the show, it would have been wrong on Sidharth's part. I think Asim and Shehnaaz also did well but Sidharth had a great bonding with people. Though he showed his angry side, I think it was his game plan to win the show. But overall, he is much deserving.
So you're categorically saying that the show is not rigged?
It could be, but Sidharth is definitely the winner of the show.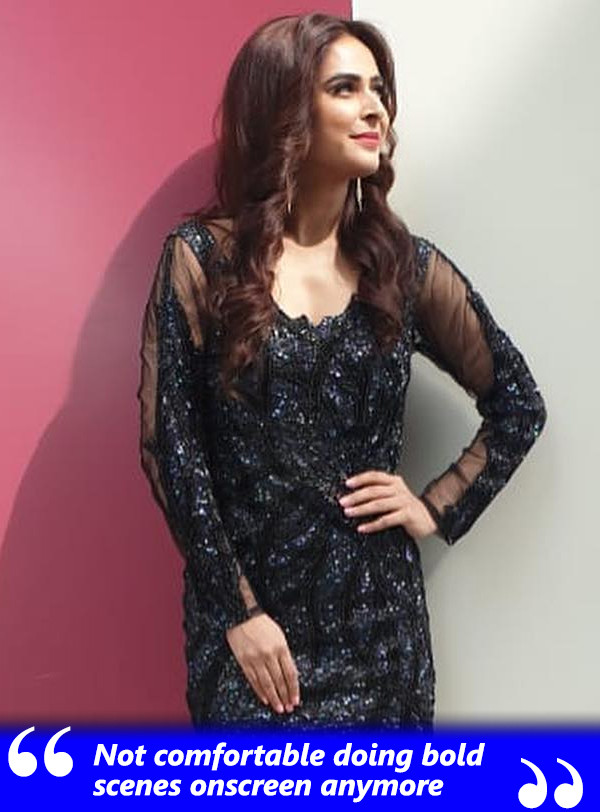 Did it get boring because there was no twist in the finale. The winner was predicted beforehand and he only lifted the trophy...
But still the show was a HIT. People loved it. For 4 months, people were hooked on to the show. So, that's what matters.
When you say the show was a hit, do you agree with me that perhaps this was one of the ugliest seasons?
No, this was one of the most fun and entertaining seasons. For the ugly part, yes everybody has fights, it's very normal but I think was a lot of entertainment factor, there was love, romance, fight- everything in there.
Do you think Vishal deviated towards Mahira Sharma at one point?
Maybe it was his game plan, or he really was, I don't know. You will have to ask him, who am I to answer.
But still, what is your observation?
Maybe, he treated her as a friend because Paras was not there so they had each other's shoulders to cry on. But they also had fights with each other which is again normal.
Image Source:- Spotboye Team
They say the best things in life are free! India's favourite music channels 9XM, 9X Jalwa, 9X Jhakaas & 9X Tashan are available Free-To-Air. Make a request for these channels from your Cable, DTH or HITS operator.