Nehha Pendse: 'Shardul Was Interested In Me But I Wanted To Be Sure, I Didn't Want A Fling'- EXCLUSIVE
Nehha Pendse tied the knot with boyfriend Shardul Singh Bayas on Jan 5, 2020 in Pune. The actress is in a happy space was very candid in her answers when we called her this morning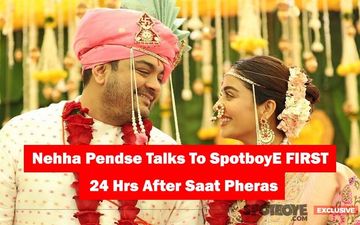 Former Bigg Boss contestant and actress Nehha Pendse tied the knot with her beau Shardul Singh Bayas in Pune yesterday. Pictures from their wedding ceremony are all over the Internet and we can't stop looking at the newly weds who spell out happiness.

Nehha spoke about everything, right from how she met Shardul, to their dating phase and lots more.

Where did you and Shardul meet first?
I met him at a party and we had a common friend out there. Later on, he got in touch with me saying that he has something in his mind and wants to discuss. So we met and he discussed this concept called Primus. It's a co-working concept and it was in a semi-developing stage at that time.
Did you gauge that he's fallen in love with you?
Can I tell you something very honestly? I thought probably he's interested. I will not deny that this thought definitely came to my mind. But I didn't know it was heading in what direction. It was only when we started dating did I realise that he met me genuinely for the cause and the fact that he actually took me as the brand ambassador.
So, was it love at first sight for Shardul?
For him, yes!
We can call it a combo from his side where he was in love and even started working with you?
He was very serious. But the thing is I was not in that frame of mind. I had experienced very bad breakups in the past. So I was like kaam se kaam rakhte hai. But what I really liked about him was in the second or third meeting itself, he said it bang on that 'I want to date you and know you better'. I said, 'Listen, we don't know each other and I don't believe in dating. I'm 35. I'm not a 20- something who'll be like 'Dekhte hai, let's see how it goes.'
About your past…
(Interrupts) I will not take any names because they are not from the industry and now they are married, I'm married too. (Laughs)
What happened between you and your exes?
I am a very strong personality. People get intimidated. Women like us are attractive. But it's very difficult for men to handle a strong woman. It's only a strong man who can understand that you don't have to handle a strong woman.
But don't you think in general, men like to be control freaks?
I don't mind if a man thinks so. My only thing is he should be rightful in doing that. As a woman, main bhi apna haqq jatati hoon, lekin haqq kahan jatana hai, yeh samajh mein aana chahiye.
It shouldn't come at the rate of cruelty. I know what you mean here…
Correct. So, when you are insecure or when you feel you have a little bit of an inferiority complex, that's when you go overboard with that feeling.
Did that happen in all the cases with you?
Yes.
I assume during Shardul too you would have been a bit wary in the beginning?
Hmm… Not really. Shardul hit it off from the first go. The fact that he's an extremely strong man in himself and he knows he need not be insecure about me, because he is sure of his love for me. Now from a man's point of view, he knows that he keeps me happy. I would be foolish to do anything stupid to lose him. When a man knows what he is doing, that insecurity will never come into play.
Did you tell him all about your past incidences before getting into a relationship?
Even he has had his own ups and downs. When he proposed to me, I said dating can stay aside for a while; I did find him very interesting though, because he is extremely intelligent. He's well-read, well-traveled, his exposure to the world is next level. So I was definitely intrigued with him as a person. I love to talk to people with whom I can gain knowledge. I don't like frivolous talks. Yes, I did share with him about my break-ups.
You guys were at the same wavelength, I guess…
Absolutely! It's just that he did it more out of love. I did it more out of the need to understand him.
Fair enough...
Yes. So, we got to know each other and I think the first 2-3 months that we were talking, I loved the fact that he was extremely caring and sensitive. At the same time, he went out of his way, left, right and centre to make sure that all my insecurities were taken care of.
And during these 2-3 months, he didn't pressurise you to go on a date with him? I mean, he was very keen to date you from Day 1…
Yes, but he didn't press for it. He said let's understand each other and take time.
He wasn't getting impatient?
Nope. But that's the whole thing. In that process, he did everything without saying it. Now for instance, he stays at Marine Drive, I stay in Andheri. He used to come all the way from there daily to meet me. And I understand that it takes 2 hours to just travel from that end to this end. So the guy who takes out time from his busy schedule and comes to see me daily, just says a lot because nowadays, people don't have the time for this. The first 2 months all we did was talking and talking- about our past, about what has hurt us, what we see in the future and so on. Everything was on a non romantic line. We were trying to understand where we fit in together. He told me that he's ready to marry me at any moment, whenever I would be ready. Then I realised that in those 2-3months, he made me so secure. Because in the past, men promised me love, promised me commitment- but when the time came, they just ran away. And here was a man who was first giving me a commitment and then talking about love. So I guess that's what caught me and I was looking to settle down. I'm a strong individual but that doesn't mean I don't need a man. I was just waiting for the right kind of man.
What was your parents' reaction?
My parents were thrilled. First of all, they were happy with the fact that I'm considering getting married because till that time I had told them that I don't want to get married.
But you said you needed a companion...
Yes, I needed a companion.
Are you telling me that you were ready for a live-in?
I badly wanted a company but I was very sure that I won't fall for a wrong man.
So finally, your parents felt that the decks are cleared that's what you mean...
See, they knew that I wanted to get married, but they also knew that I wasn't getting the right man. So they were supportive in that way that unless you are not sure, we won't force you to jump. They were extremely patient. And they absolutely adore Shardul. In the initial days, he made sure he met my parents. He made his intentions very sure to them. He told them that he's just waiting for me to take my time. My parents liked the clarity with which he came to them. I met his parents too. So, on the family front we were absolutely chilled. It was just how we were taking time to move ahead.
Did you start living in with him before you tied the knot?
After he proposed to me and after we set the wedding date, he suggested that we shift in together first and then marry. We had already decided that we would marry in Jan.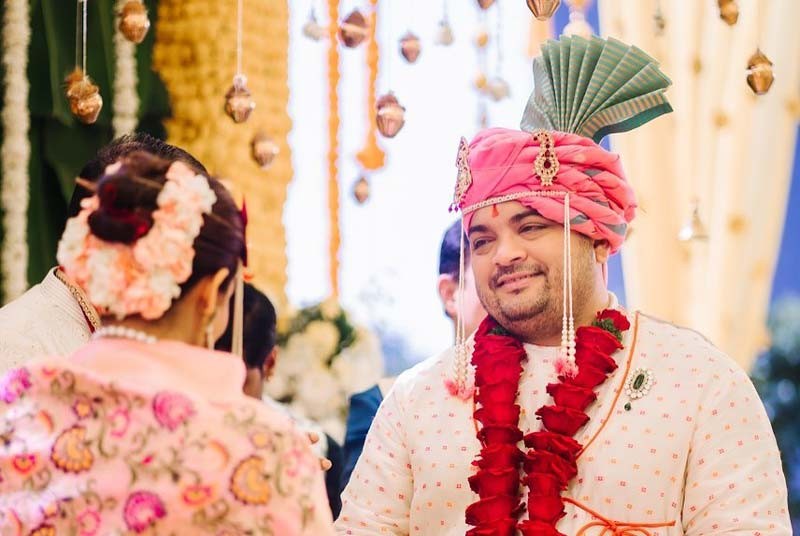 So when did you shift with him?
We shifted in August, 2019.
Will you continue doing films?
Yes absolutely. Nothing changes. In fact, I just shot for a beautiful Marathi film. I'll be shooting for another one now. In fact, I will be resuming work in 10-15 days.
Did you ever lose faith in the institution of marriage when you had your ups and downs?
If that had been the case, I would have just continued living in with Shardul. I'm a very traditional girl at heart. I strongly believe in marriage. I'm very old school in my approach to everything.
How satisfied are you at this point in your career? Don't you feel that you could have done a lot more in Bollywood in particular?
I like to be in my zone. I don't socialise. If you're thinking from a casting couch angle, it's not that way, because now, times have changed. It's not so that it doesn't happen. But right now, several things happen on the basis of good relations too. However, you have to be pushy for good relations. You have to show how much you care for someone, even if you don't. Mujhse yeh bhi nahi hota hai.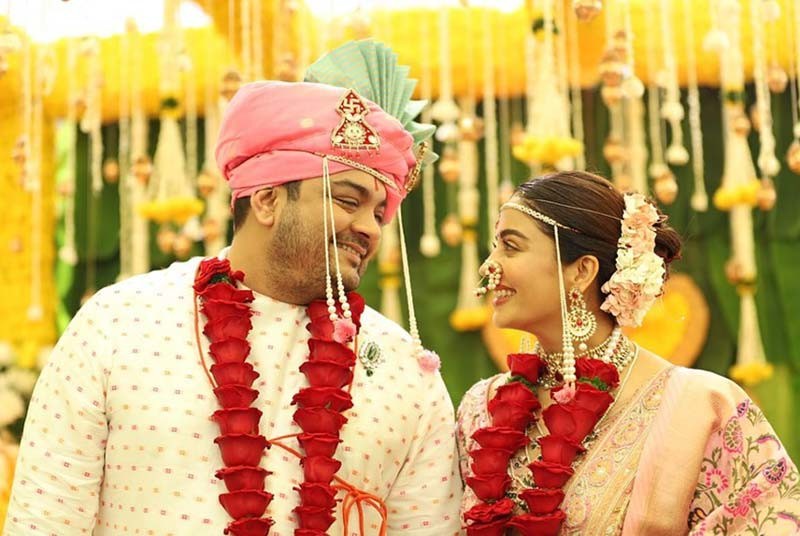 Did you face a situation like this at any point of time?
I will not say that I didn't face it at all, of course I faced it. I really have a problem in people seeing me from that POV and objectifying me.
But could you gauge it immediately?
I always knew what's happening. I have been in the industry for a long time now. For me, my set rules, my way of life is more important. I was not willing to pay that price. I was very clear.
What's next?
Post Bigg Boss, I haven't done anything. Because firstly, my personal life was going great. And secondly, unless I wasn't happy with the work that I was getting. I have done a lot of work in the past where I was totally not convinced but yet I did it. But now I feel I have reached a stage where unless I don't get the creative satisfaction, I won't take it.
Priorities also change with time...
No, nothing of that sort. I'm still equally ambitious. My work ethics has become stronger. I'm ready to wait for good work, and good stuff is coming my way. So, I had to pay the price that for 18-24 months I was absolutely jobless, post Bigg Boss.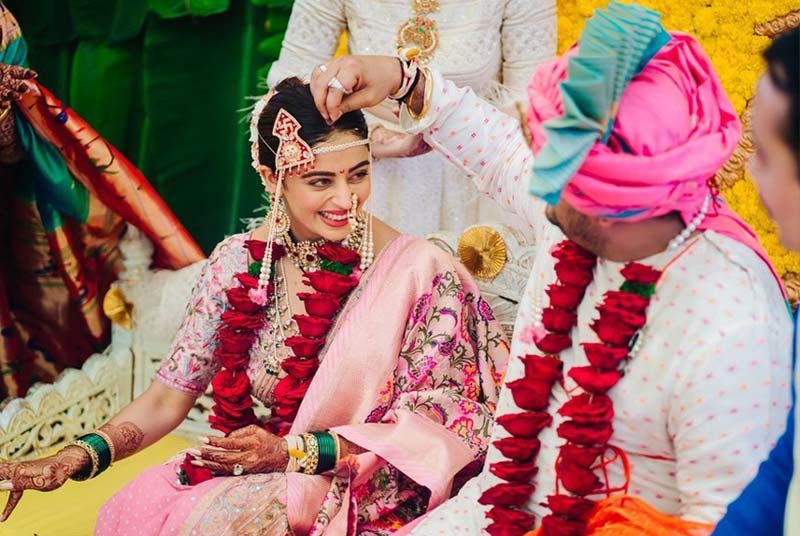 So are you watching the current season of Bigg Boss?
I don't get the time as I was shooting for my movies. I was shooting for the Marathi film, June also. It's one of the most challenging roles I have done so far. It was emotionally, mentally and physically draining.
What's the role about?
It's about two people from 2 different cities, with different mindsets coming in together for a brief moment with their own personal damages and how they land up healing each other and going back into their respective lives.
Going back into their lives? Not that they fall in love?
That's the whole point. I think love is not always physical. I do have a lot of people in my life whom I love, whom I care for. Intimacy ke bina bhi pyaar hota hai. And I think that's a very beautiful zone to capture, which very few people try to touch because it's a little difficult.
I think those relationships have more depth than those which have the physical aspect in them...
Exactly. And they last longer. The moment it becomes physical, you f**k it up.
Babies?
Not so soon. Aisi bhi kya jaldi hai?


Image Source:-Instagram/nehhapendse
They say the best things in life are free! India's favourite music channels 9XM, 9X Jalwa, 9X Jhakaas, 9X Tashan, 9XO are available Free-To-Air. Make a request for these channels from your Cable, DTH or HITS operator.