Rakhi Sawant: 'I Am Bankrupt Hence Married A Rich Guy But Didn't Get Any Support, It Was A Mistake'- EXCLUSIVE
Rakhi Sawant is gearing up to enter the Bigg Boss 14 house. In an exclusive conversation, the actress speaks about her secret husband and opens up about her troubled marital life too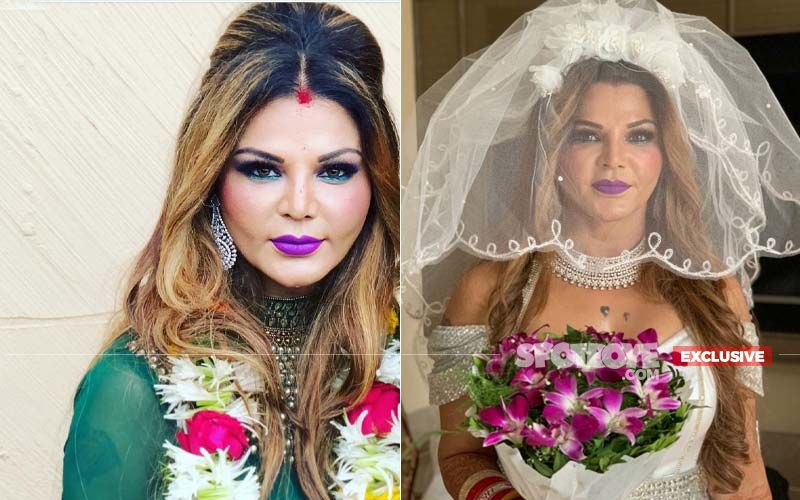 Rakhi Sawant's marriage has become a big joke. No one has still seen her husband and Internet has also often mocked her for the same. Now, the drama queen is all set to enter the controversial house, Bigg Boss 14.
Rakhi spoke to us exclusively about her marriage being discussed and used a weapon inside the house by contestants. Excerpts from the conversation:
Other challengers are already inside the Bigg Boss 14 house but you are yet to make an entry. Why?
I am going late and the rest have already entered because praja pehle jaati hai aur phir queen ki entry hoti hai. And my entry will be extremely grand with the band. I am glad that I am entering late as I am getting a chance to see who all are plotting in this game and to what level. My quarantine period had not been finished yet so completing that also. This is the Bigg Boss rule that even if you test negative for COVID-19, the contestant has to be kept isolated in a hotel room for a week at least.
How are you managing this lockdown then?
I am feeling really very bored. Have nothing to do here and I am not even allowed to step out of my room. So you could imagine how painful it is. But anything for Bigg Boss.
We saw you calling Rubina a don on Weekend Ka Vaar and also challenging her. What made you do that?
She fought with my friend Kavita Kaushik after which she decided to leave the show. Usko bhaut aadat hai logo ko muh tod jawaab dene ki, ab main usko jaake muh tod jawaan dungi.
Kashmera is also inside and you two don't have a very good past. But on Weekend Ka Vaar, we saw you guys quite comfortable with each other. So, we can expect to see you both as friends?
Mera andar koi dost aur rishteydar nahi hai. Kashmera bhi nahi. I was a fool to trust people and create bond but now I have locked all my emotions and trust in a locker. I have grown up with my experiences and this time, the Rakhi Sawant audience will get to see will not just be different but dangerous also. So, the ones who are inside- beware of me!
World is still waiting to see your husband and we saw Arshi making a fun of it. How will you react if housemates keep triggering you with this?
Agar mere pati ko thodi bhi sharm hogi vo public ke saamne aa jaayega. My husband doesn't want to come in front of the world. Its been more than a year he hasn't come here, he is in UK. My marriage has also turned into a big tragedy which I will tell the world inside the Bigg Boss house.
Hope your marital life is going smooth?
Unfortunately not.. Meri zindagi ki dhajiya udne waali hai andar aur main taiyaar hoon uske liye.
Is that the reason you are entering this show?
No, I am entering the house as I am in need of money. Main bankrupt ho chuki hoon and I need money for me and my family. I am taking this as a second chance. I want to earn as logo ne mujhe barbad kar diya aur saare paise loot liye.
Who did that to you?
A person who is not in this world anymore. I am not an educated person so that person misused my one signature and took away all my money and property. I have nothing with me. In this condition, I am handling my ailing mother, widow sister and others. I am very thankful to God that this reality show was offered to me. I seriously need the winning amount.
Isn't your husband helping you in this bad phase?
You don't know how much life has been rude to me. I made a mistake by getting married. I thought I will marry a rich person and come out of this struggle but my decision was wrong.
What if the housemates mock your personal life?
I will tell them straight before making fun of my marital life, see your own marriage status. Pathar wahi maar sakta hai jisne khud koi paap na kiya ho. Ghar mein jo ladkiya hai unme se khud koi bhi sati savitri nahi. They may use my husband as a weapon to demean me but I know how to answer them back.
Image source: Instagram