Shivin Narang Speaks Up On His First Break In TV, Upcoming Film, Relationship Status And Nepotism
In an exclusive chat with SpotboyE.com, Shivin Narang spoke about his first break in Television, his upcoming film, his relationship status and much more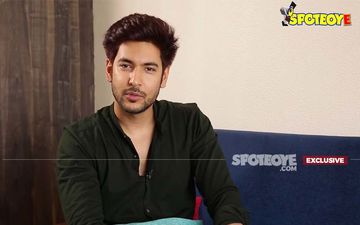 TV actor Shivin Narang who was last seen in Internet Wala Love is gearing up for his film Dheet Patangey and reading scripts to debut on digital space. In between, we met the actor for an exclusive chit-chat session where he disclosed about how he got his first break through his Facebook pictures, his struggle in Mumbai, what keeps him away from love affairs and if nepotism exists in this industry. Here are the excerpts from our conversation with the actor:
When did you plan to become an actor?


I never planned to be an actor. I was in my third year and confused like any other student that what should I do or shouldn't do. And that time, Facebook came in trend and people were busy posting their good pictures. That inspired me also to get a photoshoot done and when I told my parents about it they were like 'Yeh sab kya hai? Kuch nahi karna, ghar baitho chupchap.' But then, I convinced them and my mother allowed me to do a photoshoot. I hired a very good photographer and got my portfolio done and then I didn't know what to do next. I posted all the pictures on Facebook and through that medium, lot of people contacted me. In fact, my first show Surveen Guggal's creative team also contacted me there and that's how I got my first break in acting. I wasn't very sure if I will be able to do it but the day I came down to Mumbai, same day I signed my contract. I must have got my first break very easily but after that sustaining in this industry was really tough. In my case, I would say I became popular and then became an actor.
What was your parents wish? What dreams did they harbour for you?


I was very good in sports. I used to be a sports captain in my school days. Also, I was a national shooter and from there, I suddenly moved to acting and that definitely surprised my parents. They were little stressed as I had no Godfather in the industry. I didn't know anyone out here. I was an outsider. And like others, my parents used to think that it's not a safe place to work. People may fool you here for money. So they were concerned about all these things.
So did you face any such obstacle?


Due to God's grace, my journey was not that hard compared to people who give their years and years to get a good role. But even after getting a break, I had to work for it. I remember I used to keep a camera on pillows and rehearse as I didn't knw anything about acting. Hours and hours I used to do that and finally after a lot of effort I learned the art. Nobody has the time to teach you, so you have to observe and absorb to be a quick learner.

Were you ever asked to compromise considering the fact that this industry is pretty famous for it?


I have been lucky that I never went to someone to ask for work. But after that also I would say there are people in the industry who gives you such vibes where you easily understand that he or she is indicating towards something. But I feel it's you who should know how to deal with such creatures.
You are the only child. So was it difficult for you to come and settle alone in a city like Mumbai?


Yes, I am the only child and that too, a pampered one. I had no responsibilities when I used to stay with them in Delhi. So when I came down to Mumbai, it was very difficult for me to stay here. I didn't know how to cook and till date I don't know how to cook. So I used to think for all 3 meals as you can't eat outside food all the time. I used to attempt and kai baar maggie jalayi hai. I remember one day I was not at home and the water tank overflowed. It was water all around when I opened the door and then inspite of being tired I ended up cleaning it. I remember all these small struggles which used to often remind me about my parents that what a good life they had given to me.
You have always denied reports of a relationship with Smriti Kalra. So today, we really want to know whom are you actually dating?


No one because I am a very introverted and private person. Generally I don't go out much and meet people apart from work. I hardly socialize so there is very loss possibility for me to explore any girl. And beyond that, I believe every relationship deserves your 200% and I am so occupied with myself and my work. I don't feel that I will be able to do any justice. I am not a person who believes in making girlfriends rome around and as per convenience leave them. I want to be honest in my relationship whenever I will fall in love.
What is stopping you from falling in love?


It's not a to-do list which you can make and you can find. But I have not kept myself reserved. I also meet people and feel connected but probably after 5-6 days, I feel no we are different. So it won't work. All you need is to give time and that is where I lack I feel.
What qualities do you expect when you think of her as a life partner?


Respect should be there for each other. And you should have an understanding. You should have something in common to talk about. If she has these three qualities, I think it can last long easily.
Fans praise you more for your good looks than your acting. Does it affect you?


I remember when I was doing my first show, someone told me 'Don't think that you will get work only on the basis of your good looks or it will be your key to success'. So I understood this at a very initial stage of my career. Since then, I really worked hard on my craft. Trust me it's just a perception that if you are good-looking you can become an actor but it's not the case. You have to impress others with your acting skills only. I have never got approached for a show, TVC or a film because of my good looks. Recently, I was nominated for best actor too. But I understand fans' perspective also as I myself am a fan of Hrithik Roshan. He is extremely good-looking and perfect, right from his body, hair colour. So mera dhyaan unki acting pe nahi jaata, even if he is a great performer. But if you ask me as an actor we have to look good and perform as well.
Why is your debut film Dheet Patangey getting delayed?


Last year, I couldn't give my dates as my father was unwell so we couldn't shoot. And then it is not easy to make and release a film if you don't have a godfather to help you out. It's getting completed soon and hopefully will release too.
Are you excited or nervous for your Bollywood debut?


I am excited, but at the same time I am nervous also as I have already proved myself on the small screen. But Bollywood is a new medium for me and I have to give my best in a few hours to win the audiences' heart unlike daily soaps where you meet them on regular basis.
Tell us about your character in the film.


I am not allowed to reveal that but it is completely different from what I have done before as my look and feel will be of 1983.
Do you feel nepotism exists?


Obviously it exists and we have live examples in front of our eyes. But I think you can get your first break and get easily launched but after that you have to prove yourself because audience is really very intelligent. So even if they are star kids they have to equally work hard to sustain themselves to become a star. However, one can't deny a normal person has to give his/her 5-10 years to get that break and popularity which they get in no time.
Why do you think every TV actor these days wants to do a Bollywood film?


I have never categorized myself as per medium. I am an actor who wants to act and it can be any medium right from Bollywood, Television, Web Series. I am not stereotypical and with my work and I try to break it every time. But if you ask me why TV actors want to make big in Bollywood then my answer will be its inspiring. Films are something which we have grown up watching and compared to that, TV is new. And now web has come after which people are showing their interest in that too. Films also give you much more creative satisfaction than TV as here we have to take care of all kinds of audiences before making anything. And it's a human greed as that is a medium which is yet larger than life.
Even after getting your first break through social media, why you are not so active on the medium?


I will be honest. I was very active on Facebook and then Instagram came. Initially, I used to post but was not very active. And in no time it turned out to be extremely popular and big. In fact nowadays, it is like an addiction to people who want to post each and everything they do. But that is not my personality. There is a new thing which I have discovered recently that in today's date if you have some set of following there, you will get work which is not only stuck to brand endorsements but these days casting has also become dependent on that.
But as an actor, I really don't appreciate this at all because this is not going to sustain in the long run. Like if you have good looks it can be your ID card, but you can't go a long way if you don't know how to act. Same way they can count followers but at the end of the day, your work will be appreciated. So if any of my fan is hearing me out, do as much Instagram and Tiktok you want to do but don't think just because of that you will become an actor. You can get famous but as an actor it will not help you much. And hence I don't like to be very much active there. People who know me and know my work will definitely come to me for work. I really don't want people to judge me by my Instagram page.
Image Source:Youtube/spotboye
They say the best things in life are free! India's favourite music channels 9XM, 9X Jalwa, 9X Jhakaas & 9X Tashan are available Free-To-Air. Make a request for these channels from your Cable, DTH or HITS operator.