'Carry Condoms, Cooperate With Rapist,' Filmmaker Daniel Shravan's FILTHY Comments On Rape DISGUSTS The Internet
Filmmaker Daniel Shravan's nasty and disgusting comments on rape and the way he defended such heinous crime has brewed rage across the internet, the netizens are slamming him left, right and centre for all the right reasons!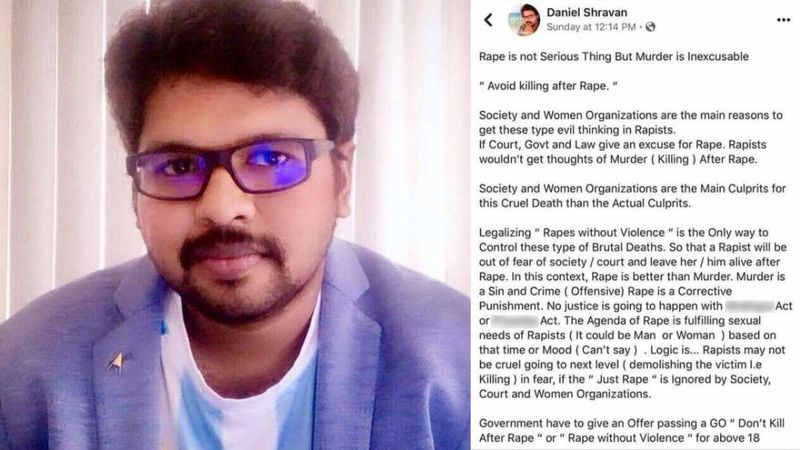 Imagine being so insensitive that you have to justify a crime as heinous as rape, that too with some of the most disgusting remarks. Can't relate, right? Well, we have; unfortunately, come across a demeaning exception that didn't only defend rape, but also shared some tips on how to get through rape without being killed. As disgusting and shameful as it sounds, a filmmaker who goes by the name of Daniel Shravan had shared his two cents on the rape in the wake of the Hyderabad rape case that has taken the world by storm. And as if that wasn't enough, his toxic comments are filling everyone with rage.
In his now-deleted post, Daniel advised the government to "legalise rape without violence scheme (no killing after rape)". He further stated how "girls above the age of 18 should be educated on rapes and that they shouldn't deny any sexual desires of men". As per him, if the government passes a scheme that makes women "carry condoms and cooperate," there won't be any killing after rape. These derogatory remarks have brewed a storm across social media and the filmmaker is getting bashed like there's no tomorrow.
Check out some tweets below:
Daniel shravan... Whoever u are...
Is that how you wanna picture your mother everyday?
Can you?
Oh wait
Obviously you can...
Maybe you're the one
Sexually harrasing your own mother! /Sister! pic.twitter.com/opFMbyLvzq

— Himani (@Hgmani2) December 4, 2019
Look at this filthy men Daniel Shravan..What a waste of sperm he is!! ..If same thing happens to his family member, he will definitely say "arey chalo achcha hai...tumhara sirf rape hua hai.. .kam se kam murder to nahi hua! pic.twitter.com/jupHDkOFBw

— Kolkata_Chhori (@Kolkata_Chhori) December 3, 2019
Daniel Shravan!! Are you a Human? I am appalled by your opinion. You are asking the government to legalise Rape! Apropos Hyderabad Rape and Murder case, your opinion is impish and frightening at the same time. Strict action should be taken againt him. #HyderabadHorror pic.twitter.com/nLHvnDSZ3n

— Shaurya D Joshi (@ShauryaDJoshi) December 4, 2019
Filmmaker #DanielShravan suggests that rape without murder should be legalised, women should carry condoms and offer the rapist a condom in the act of rape.

No Daniel, women should carry Knife to apply on a particular organ of the rapists. And you need a Psychiatrist. pic.twitter.com/8HAg7uMaIY

— 𝘈ʟᴛᴇЯ Ǝɢ๏ ツ (@Alter_Ego45) December 4, 2019
His whole post read, "Government should encourage legalize Rape Without Violence Scheme (No Killing after Rape). Girls above 18 should be educated on rapes (i.e. girls should not deny the sexual desires of men). Only then these type of things will not happen. It is foolishness that killing Veerappan will control smuggling, killing Laden will control terrorism. In the same way, "Nirbhaya Act" can't control "Rapes with Violence". Especially Indian girls should be aware of sex education (carrying condoms and dental dams after the age of 18). Simple Logic....when the sexual desire is fulfilled men wouldn't kill women. The government should pass a scheme something like this to control deaths after rape. Society, women organizations and government are frightening rapists with Nirbhaya Act, pepper spray etc. Rapists are not finding a way to get their bodily sexual desires and getting these killing thoughts. An evil thought provokes crime (killing). Better women should accept men's sex."

We have no words to say. It's, unfortunately, such a shallow mindset that encourages men to commit a dastardly crime like rape.
image source: twitter