'Snoop Dogg Arrived On Sets With 'Death Row Joint' In His hand And Even Asked Her To Try It', Claims Singer Bebe Rexha
Bebe Rexha is known for popular songs like In The Name Of Love, Say My Name, and I'm A Mess among others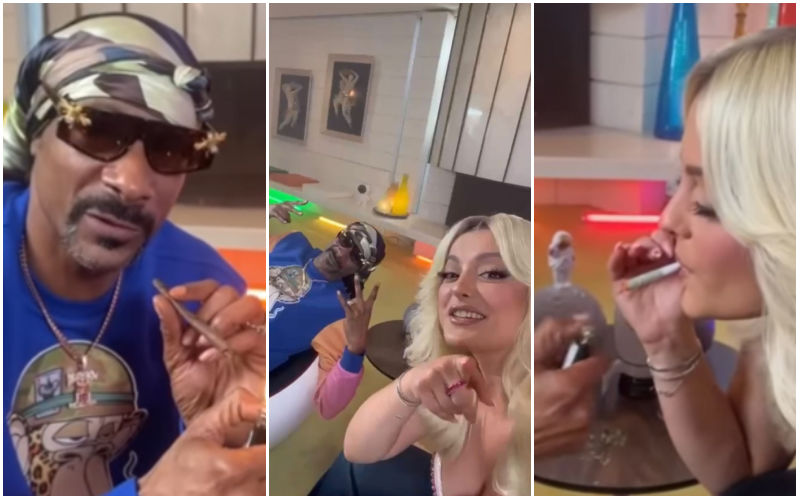 There's hardly a soul who wouldn't know snoop dog and his love for marijuana. Interestingly, the world-renowned rapper has a personal professional blunt roller who claims to have rolled half a million joints for him.

"That's his J-O-B, his occupation. On his resumé, it says, 'What do you do?' 'I'm a blunt roller. P-B-R, professional blunt roller," Dogg had once said.
According to the professional blunt roller, Snoop Dogg usually smokes a whopping 75-150 joints in a day and his blunt roller Renegade Piranha earns about $50,000 thousand dollars a year.
Bebe Rexha, who is known for popular songs like In The Name Of Love, Say My Name, and I'm A Mess among others, recently collaborated with Snoop Dogg for a song called Satellite. She had claimed that Snoop arrived on the sets with a joint in his hand and even asked her to try it.
The 33-year-old singer revealed, "He's like, 'You have to try my Death Row Joints,' and I was like, 'Right now, on the video set? I'm going to look high on the video.' He said, 'Just try it,' and I was like, 'Okay.'" She continued, "I took a hit of it, and I got so high with Snoop Dogg. But who could say they got high with Snoop Dogg? That's like a lifetime thing."
Before her song's release, Rehxa had shared a video with Dogg, which featured them smoking together.
To her surprise, Rehxa's father had a rather absorbing reaction to his daughter smoking with Snoop Dogg. "My dad called me and was like, 'What are you doing? Why are you smoking on the internet? Are you crazy?'." I was like, 'Dad, it's Snoop Dogg. If you smoke with anybody, it has to be Snoop Dogg,'" she said.
Recently, Snoop Dogg revealed that he wanted to cut down on how much he smoked in order to see his grandchildren grow up.
Image Source: Instagram