3 Idiots Actor Olivier Lafont REACTS After Internet Apologises For Misunderstanding His Character Suhas; Here's What He Has To Say!
French actor Olivier LaFont, who played Suhas in'3 Idiots', has reacted to the internet apologizing to him for misunderstanding his character!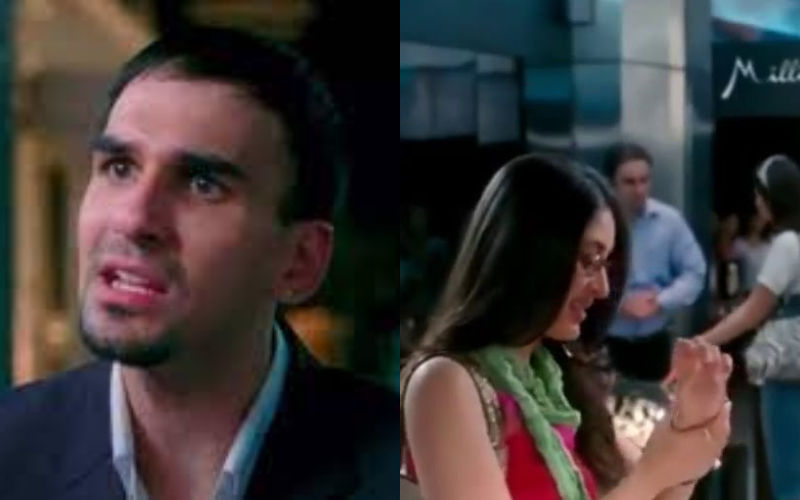 French actor Olivier LaFont played the character of Suhas in Aamir Khan and Kareen Kapoor starrer '3 Idiots.' His portrayal of Suhas, who was shown as extremely touchy about the costly items he possessed, became a butt of jokes on the internet. Interestingly, Olivier is now receiving apologies from netizens for misunderstanding his character in the film. In fact, the actor has reacted to the apology and thanked fans for rediscovering his character.
Taking to his Facebook page, Olivier penned a note that read, "Lately I've been getting messages from people 'apologising' about misunderstanding the character of Suhas Tandon that I played many years ago in the film 3 idiots, and then this post by Aaraynsh Singh went viral highlighting the conversation about a balanced understanding and appreciation of the place of money in life. It's amazing that both the movie and character had such an impact then, and even now. It's also nice that Suhas is finally getting some love."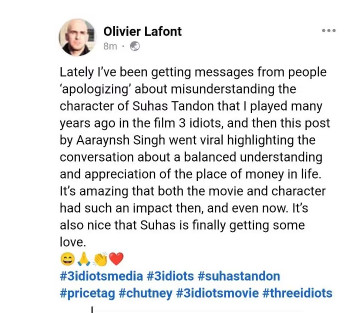 Adding to this, he mentioned, "The sudden interest in Suhas has been so unexpected. He really seems to have struck a chord with people lately. Instareel @ohshutupShruti9 had a whopping 3.2 million views and 264k comments. Can you hear 'PriceTag' shout "MERI BATTEES LAKH KI VIEWEEEERS!"??."
Olivier LaFont was on the receiving end owing to his character Suhas and it even started a hilarious meme fest on social media. Besides his character, Omi Vaidya's portrayal of Chatur and Boman Irani's Viru Sahastrabuddhe were characters that invited a lot of memes and jokes.
Directed by Rajkumar Hirani, '3 Idiots' was based on Chetan Bhagat's bestseller book titled 'Five Point Someone' and also starred R. Madhavan and Sharman Joshi. The movie was released on December 25, 2009, and received widespread critical acclaim and commercial success.