Aliens Are Invading Earth From Sea? Bizarre Picture Of Aleo Vera Spark Mass Hysteria And Panic Amongst Netizens-SEE PICS
The bizarre snaps were shared to a South African Facebook group, where they're currently scaring up hilarious responses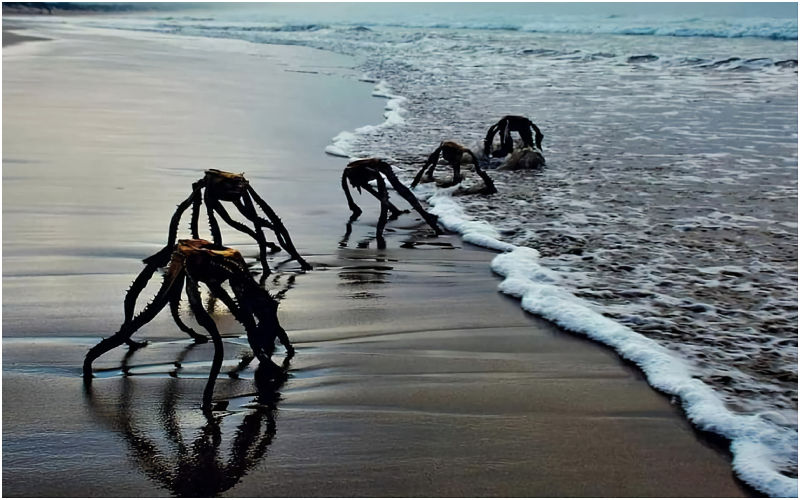 Are aliens taking over the earth? Well, the question has troubled everyone as a South African man spotted bizarre hysteria in the water. The event has sparked confusion amongst the users as some mistook his creepy pictures of dead plants for aliens emerging from the sea.

Shortly after he shared the pictures, his snaps were shared to a South African Facebook group, where they're currently scaring up hilarious responses.
"I was surprised [by the reaction]," Jan Vorster told Kennedy News of the extraterrestrial-seeming pics, which were snapped in his hometown of Still Bay, Western Cape. "I thought that people would have fun with it, but then it was very serious, some of it was extremely serious."
He added, "A lot of people were scared of these alien-looking sea monsters. It was like 'Jaws' — is it safe to go into the water?"
The 62-year-old farmer clicked pictures of the dead aloe vera plants - an evergreen succulent which is quite popular for its healing properties - that were lined up on the beach at sunrise and it seems as if the tentacled monsters invading the shore.
He later posted the bizarre pictures on Facebook in an attempt to raise awareness about environmental degradation.
"I thought I could use this as a metaphor for how people see these plants as aliens, but we are actually the two-legged aliens messing up their world," Vorster described, as reported by The Sun. "That was the idea," he continued.
However, his eco-conscious photo was however, dubbed as aliens emerging from the sea, making an intergalactic beachhead - reminiscent of Orson Welles' hysteria-stirring "War of the Worlds" radio broadcast in 1938.
A user seemed particularly afraid and quipped, "Just wanted to cancel my vacation. Because of things like this, I don't swim. I'm already scared of a shark."
"Please go back into the ocean," pleaded another, while one commenter wrote, "Are you serious? Holy moly… scary." "Never seen those before in all the years living on the coast," declared another. "Maybe they're only in Cape waters." "They look like some alien thing from War of the Worlds with Tom Cruise," exclaimed one commenter, referencing the lanky invaders in Steven Spielberg's 2005 sci-fi remake. "People kept asking me when they [the creatures] were coming out, and if they were only coming out at night," explained Vorster, who also re-created the eerie performance piece at a nearby river.
Jan Vorster even tried to shut down the rumours of an alien invasion as he tried to explain that this was no SeaT. However, his pictures seem to make it worst as critics claimed he'd "misled them" and "should be crucified," Vorster claimed.
"People Googled the aloe ferox [scientific name] and couldn't put two and two together," he lamented. "They kept saying, 'Please help us, because this is not a plant. This can't be a plant.' "
Some users even sent Vorster's photos to an environmental scientist who even confirmed that the figures weren't dangerous to humans.
Image Source: Instagram