AWW! Man Surprises Girlfriend With Marriage Proposal In Flight; Adorable VIDEO Goes VIRAL! Netizens Say 'We Are In Mumbai Local'
A man planned a surprise marriage proposal for his girlfriend in the middle of an Air India flight to Mumbai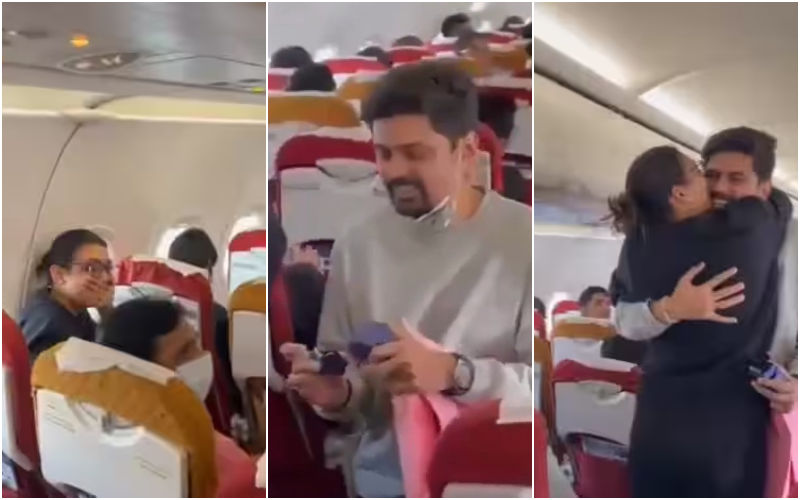 While aeroplanes seemed to be the new spot for people to do weird things (like peeing); a viral video of a couple has restored faith in humanity. The clip in question saw a couple performing a heart-warming gesture and it has taken the internet by storm. In a rather surprising turn of events, a guy has set relationship goals by popping the question thousands of feet above the ground.

Well, saying 'no' would surely turn the journey 'awkward'; but his partner agreed to the surprise proposal and many were left in 'aww' by the romantic gesture.
As per the reports, the man planned the surprise marriage proposal for his girlfriend in the middle of an Air India flight to Mumbai. The post about his marriage proposal has now made it online and it instantly won people's hearts.
In the video shared by Ramesh Kotnana via LinkedIn, the man booked the ticket on the same flight on which the love of his life was travelling to Mumbai in an attempt to surprise her. The clip begins with him carrying a collage of their photos together. After he reached her seat, the man takes off his face mask and smiles as he kneels down, opening a box of rings to propose to his wife-to-be.

The person who is recording the video approaches the woman saying, "Excuse me Ma'am", after which the camera pans to her and the woman is seen covering her mouth in shock.
The woman gets up from her seat and can be heard saying, "Oh my god!", she then hugs the man and plants a kiss on his cheek, while fellow passengers are seen clapping.
As per Air India officials, the incident took place on January 2 when the woman was travelling from London to Mumbai via Hyderbad; hence, he booked a flight from Mumbai-Hyderbad to propose her.
However, a few netizens were surprised by the events that have been conspiring in Air India flights. Reacting to the viral video, one user shared a screengrab from the clip, and tweeted: "Made a new advertising tagline for Air India. 'Susu' se lekar 'I love you' tak all action is happening on Air India. Where are you?" (sic). One also speculated that the video was yet another PR stunt to cover up a recently conspired incident, as a drunk man reportedly urinated on a woman in business class on a US flight.
For mocking Arnab Goswami on Indigo flight, @kunalkamra88 got 6 months flying ban.
And For peeing on lady on Air India flight, pisser gets 30 day ban.

If only Kunal Kamra knew that, he would have done the same & got away with lesser days of Ban pic.twitter.com/lB6sVnGnz4

— Harmeet Kaur (@iamharmeetK) January 4, 2023
Check out the tweets below:

Image Source: Instagram