Backstreet Boys Make A Glorious Performance In India After More Than A Decade! Malaika Arora, Jacqueline Fernandez, And Other Celebs Attend
A slew of paparazzi welcomed Carter and AJ McLean, another prominent member of the pop trio, as they arrived at the airport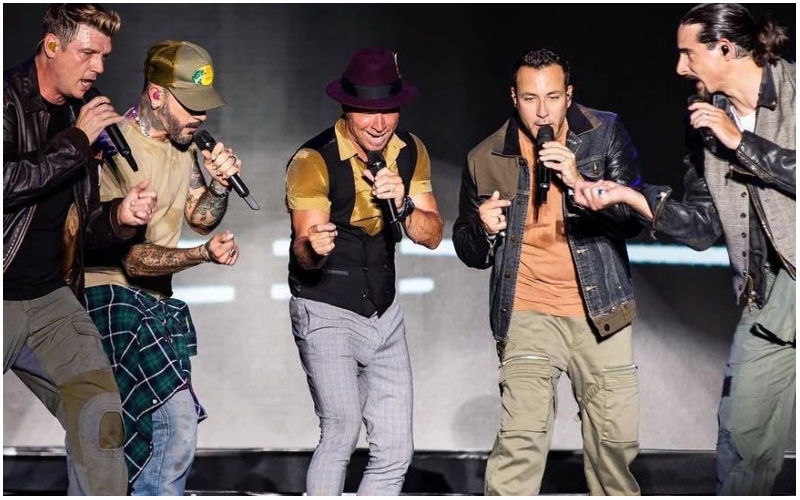 One of the most well-known boy bands in the world, The Backstreet Boys, have made a glorious return as they played in front of thousands of fans at Jio Gardens in BKC. The iconic and evergreen boy band has finally made it to India after a decade and they played their nearly two-hour set of hit songs.

For those unaware, the group was formed in Florida in 1993, and 'Backstreet Boys' was their self-titled debut record, which helped them gain popularity. The band's DNA World Tour 2023, which was organised by Book My Show. On May 5, they will also perform in Delhi as part of this tour.
Amid all the excitement, fans are currently going gaga over the viral pictures and videos from the event on social media, along with shots of the bands' performance.
Earlier, staff members of a Mumbai hotel had earlier performed a dance to their all-time popular song, 'Larger Than Life', to welcome the American former boy band.
Backstreet Boys frontman Nick Carter tweeted about the same from the hotel lobby on Wednesday, and wrote, "What cool surprise arriving at the hotel here in Mumbai India. The hotel staff had a full out Bollywood style dance prepared remixing all our songs. I guess we really do have fans all over the world."
A slew of paparazzi welcomed Carter and AJ McLean, another prominent member of the pop trio, as they arrived at the airport. The group is one of the top-selling musical acts in the world and the best-selling boy band of all time, with global record sales of more than 100 million albums.
Image Source: Instagram