Bella Hadid Poses Nearly-Nude As She Flaunts Her Sexy Figure! Covers Her B**bs With Hands Amid 'BDSM' Backlash
Bella Hadid bared it all as she posed shirtless to promote her new 'About You' collection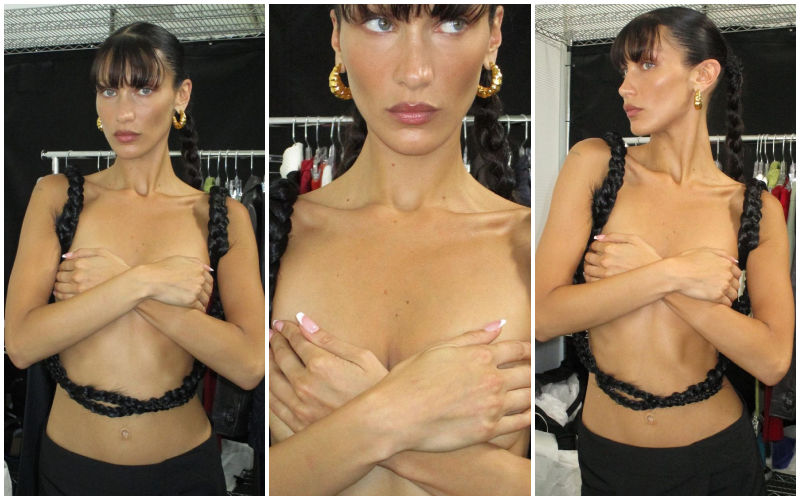 Bella Hadid has once again shared eye-popping pictures of herself which have instantly managed to achieve more than a million 'likes' in mere a few hours. The supermodel bared it all as she posed shirtless to promote her new 'About You' collection.

Sharing a carousel of images, Hadid wrote, "My collection @aboutyou, online now". For her post, Bella can be seen posing topless in a black miniskirt and a white hat. In the pictures, she also posed with long braids and used her hands to cover her breasts.
Interestingly, the collection promoted by the model has a series of wardrobe basics such as sweaters, shirts or pants.
Meanwhile, the post has witnessed a rave response from the fans. Many have even applauded Bella Hadid's response on the internet to the latest controversial Balenciaga campaign, which shows children with stuffed animals using harnesses and other bondage items, and which has been withdrawn and they have apologized.
For the unversed, Bella Hadid deleted her posts after Balenciaga faced backlash over its recent ad campaign that featured little girls holding stuffed animals in bondage gear. The ad campaign was deemed as 'inappropriate' and 'disturbing' by many on Twitter.
After inviting netizens' wrath on social media, the luxury fashion brand issued a statement on Tuesday on its Instagram story. "We apologise for displaying unsettling documents in our campaign. We take this matter very seriously and are taking legal action against the parties responsible for creating the set and including unapproved items for our Spring 23 campaign photoshoot. We strongly condemn the abuse of children in any form. We stand for children's safety and well-being," the statement read.
Meanwhile, Bella Hadid has decided to distance herself from Balenciaga following the criticism for its latest ad campaign, which features children holding stuffed animals that appear to be wearing bondage-inspired outfits.
Image Source: Instagram