Bigg Boss 4 Telegu: Abhijeet Duddala Wins The Trophy For Nagarjuna-Hosted Reality Show
Bigg Boss Telegu season 4 signs off as Abhijeet Duddala was announced as the winner of Nagarjuna-hosted season. Actor Chiranjeevi's presence glorified the event.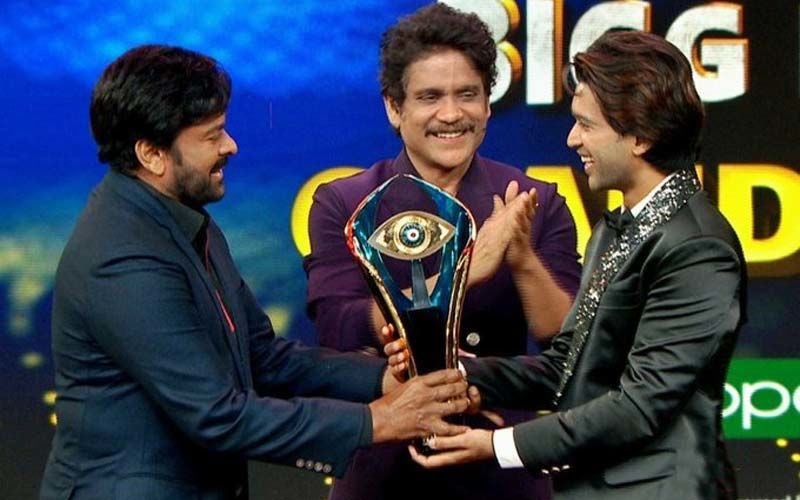 It was finally the day when the popular reality show of Bigg Boss Telegu season 4 aired its grand finale episode. The winner of this show Abhijeet Duddala won the trophy and took home the whooping prize money of Rs. 25 lakh and a stunning bike. This show was hosted by none other than Nagarjuna and the grand finale was even more glorified by the presence of the veteran actor Chiranjeevi.
Akhil Sarthak was announced as the first runner-up and showed his gratitude toward the audience who voted for him. Along with Abhijeet and Akhil, the contestants who established their places as finalists were Alekhya Harika, Ariyana Glory and Syed Sohel Ryan. The star-studded grand finale stage was set ablaze with the sizzling performances by the ex-contestants from Bigg boss previous seasons.
Season 4 of Bigg Boss Telegu premiered on 6th September, 2020 on Star Ma. This season was no less than a roller-costed ride. It was a perfect blend of drama, friendship, love and fight. For those who are not much aquatinted of the winner and also for those who have been a fan of him, let us say that, Abhijeet had been a strong and popular contestant among all. He was largely known as 'Mr. Cool' who was blessed with an attitude of a cool and calm person. He totally knew how to ace the game like a boss and finally, he proved it by winning the trophy.
The show was initiated with 15 contestants including Abijeet, Akhil, Gangavva, Alekhya Harika, Noal Sean, Ariyana Glory, Surya Kiran, Syed Sohel Ryan, Karate Kalyani, Jordaar Sujatha, Amma Rajasekhar Monal Gajjar and Lasya Manjunath. Gradually the wild card entries of Avinash, Swathi Deekshith, Kumar Sai added numbers on the TRP meters.
Image source: Twitter/VishnuPriya_Off