Britney Spears Bursts Out At Younger Sister Jamie In An EXPLOSIVE Tweet For Selling Book At Her Expense: 'Hope It Does Well'
Britney Spears slammed her younger sister Jamie Lynn Spears in a super long tweet.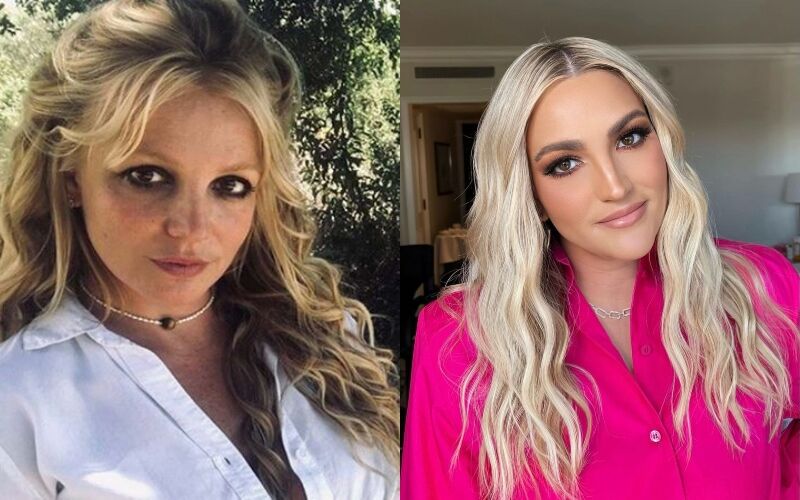 Amid Britney Spears' battle of high fever with 104 degrees she slammed her younger sister Jamie Lynn Spears in a super long tweet. The American pop sensation's recent tweet comes after she watched Jamie's interview about her new memoir and claimed that her sister was attempting to 'sell a book at my expense'.

One of the explosive excerpts from her tweet read, "My sister said was that my behavior was out of control. She was never around me much 15 years ago at that time… so why are then even talking about that unless she wants to sell a book at my expense ??? REALLY?'"
She also pointed out how it all went down. Britney shared that she was battling a high fever and asked the security guard to get her some medicines but couldn't bring them as he 'had to stay on property.'
In a following tweet, Britney credited her fiance Sam Asghari for her survival and shared that he got her the medicine.
She further added, "I know it may sound like a silly thing to most people but I wrote a lot of my songs and my sister was the baby. '[Jamie Lynn] never had to work for anything. Everything was always given to her !!!! If you were me, you might understand asking for 13 years for remixes to go into a small venue show and on tours !!!! 13 years alter they assign me as the MOTHER OF ALL… heart of gold … Britney sitting there seeing a 15 minute performance of everything I have ever wanted… But see, I always was the bigger person."
The 'Criminal' singer continued, "'But see now it's a joke … the last thing I would ever do is ask for what was just given to her !!! So yes, they did ruin my dreams. Hope your book does well, Jamie Lynn !!!!! I won't be doing Instagram for a while. The media, this business has always been extremely hateful to me. I've given enough… MORE than enough. I was never given back ever what I want … They say in the Bible "ask and you shall receive" …. Uhhhhh not in my life."
Lately Britney Spears has been taking the internet by a storm. The Queen of Pop has been mindful to keep her 'not-so explicit' photos right under the community guidelines. Over the weekend, Spears showed off her butt in a series of sizzling hot photos shared on Instagram on Sunday night.
Image Source: Instagram/

britneyspears/

jamielynnspears