Britney Spears Goes TOPLESS In Bright Yellow Bikini Bottoms For Sexy Poolside Photos-PICS INSIDE!
Britney Spears once again stripped down to nothing but bright yellow bikini bottoms in the backyard pool of her nearly 12,000-square foot Hidden Hills mansion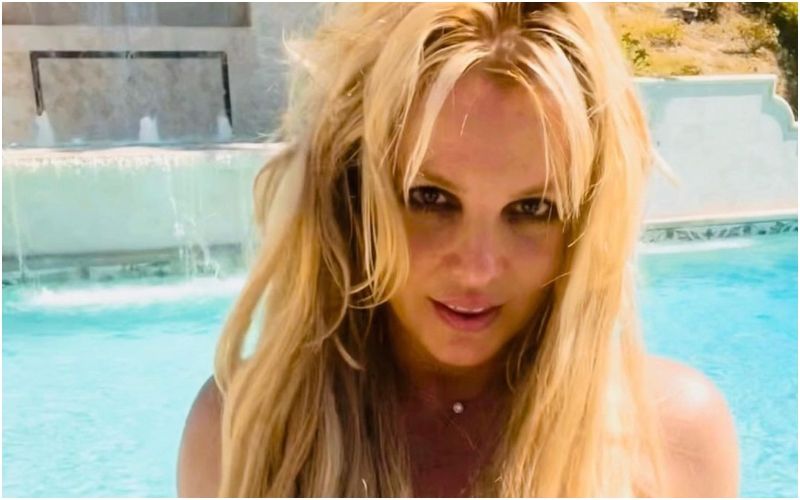 Britney Spears is an avid social media user and she has often impressed her fans with her posts and solo dance numbers on Instagram.

Even though summer might have concluded for us but the peaches are still in trend for the pop princess. From going braless to going totally nude Britney is doing it all to entertain her fans, and lets just say she is enjoying herself.
Spears once again stripped down in the backyard pool of her nearly 12,000-square foot Hidden Hills mansion she bought just days after her surprise June 9th wedding to longtime partner Sam Asghari, 28.
The recent pictures featured the 40-year-old star posing topless in bright yellow bikini bottoms, flaunting her two tattoos on her bikini line. Her long, blonde hair was straightened and strategically covered to hide her chest.
Surprisingly, unlike her other Instagram posts, the 40-year-old singer did not caption the carousel of images.
Apart from going topless without for photo series, Britney also shared another photo series including a video of her yellow roses swaying in the wind followed by two of her pictures from her first post with a filter applied to them.
In another and last post for the day, Britney showed off some epic dance moves while sporting a short black Nike short yellow crop top that featured off-the-shoulder sleeves. "I've never sweat so much in my life," she captioned the video.
Interestingly, earlier this week, Spears went totally nude as she opted to show her nearly 42-million Instagram followers her bare backside. Previously, she has also spoken about feeling empowered when she posts nude photos, and just dropped a pic of herself posing naked on a bed.
The Criminal singer was seen clutching her toned booty, while her shoulders and back appear to be super strong. In an attempt to follow the Instagram guidelines she added a tasteful emoji covering her booty.
People were all about it in the comments. "QUEEEENNNNNN," one wrote. "Southern peachNEY 🍑," another said.
Sadly, the last few weeks have certainly been stressful for Britney, owing to the drama around her ex, Kevin Federline, and one of their sons Jayden, 15, speaking publicly about the singer and their relationship with her in interviews with the British news network, ITV.
Image Source: Instagram