Britney Spears Poses NAKED Once Again As Sam Asgari Admits He Doesn't Like Racy Shots; Says 'Who Am I To Control Someone'-SEE PICS!
Britney Spears posted several shots in which she covered her chest with her hands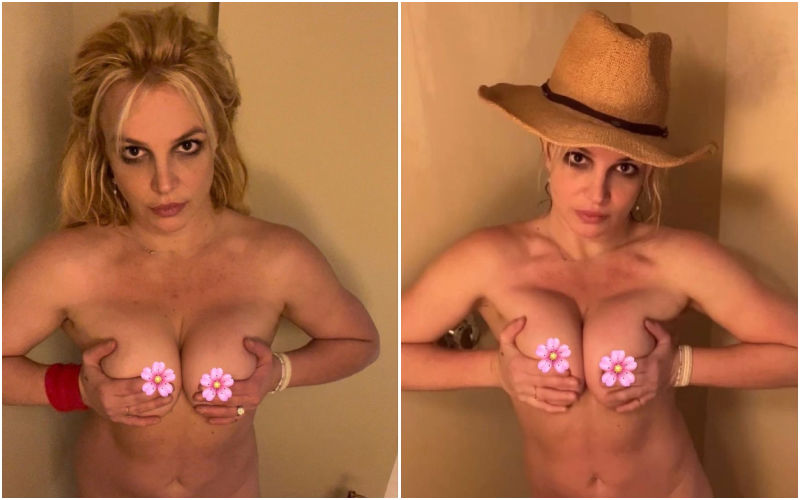 Britney Spears appears to be going wild again as she has once again added a series of new topless shots on her Instagram account on Thursday. Her husband Sam Asgari gave his candid opinion on her penchant for racy posts.

The 41-year-old singer, who has 41.6 million followers on the platform, posted several shots in which she covered her chest with her hands while strategically placing graphics of flowers and lips.
A DailyMail report quoted Sam Asgari saying, "The only person in the world who gets bullied for posting like this," adding "I personally prefer that she never posted these, but who am I to control someone who is under a microscope and has been controlled their whole life."
In an extended caption, Spears advised her followers that 'travelling and seeing the world' was a way to find peace with one's mental health and that she was more comfortable travelling abroad than she was in Los Angeles.
Spears also commented on the impact of technology when pitted against nature, as she said, "Today we all look to our high-tech phones to find purpose and connect with this thing called Earth… never forget where you came from."
She went on to add: "And know that one of the best connections with Mother Nature is being in a field!!! BECAUSE YOU FINALLY REVEALED YOUR A** TO THE WORLD!!!"
Meanwhile, Asghari posted a comment on the social media site where she attempted to point out that although she personally does not like the posts, she defends her right to express herself as she sees fit.
Earlier this week, Spears took to the site and wore nothing but a pair of red bikini bottoms while grooving to LL Cool J's 'Doin' It' with her hands holding her cleavage.
"41 and finally expressing my freedom never felt better!!! Learning to love myself has become my passion this year… I'd rather be in my skin than wear my skin!!!" the princess of pop captioned the uncomfortable clip.
The Toxic hitmaker wore her blonde tresses in a messy bun and sported her signature black eyeliner. The video received mixed reactions from 41.6M fans, with some encouraging her and others wondering if her social media was being controlled.
Image Source: Instagram