BTS' Jungkook Recites Shah Rukh Khan's Dialogue From Mohabbatein, ARMY Reacts, "I'm Proud To Be An Korean And I Love Indian So Much"
BTS' Jungkook recites Shah Rukh Khan's dialogue from Mohabbatein, which has made fans go crazy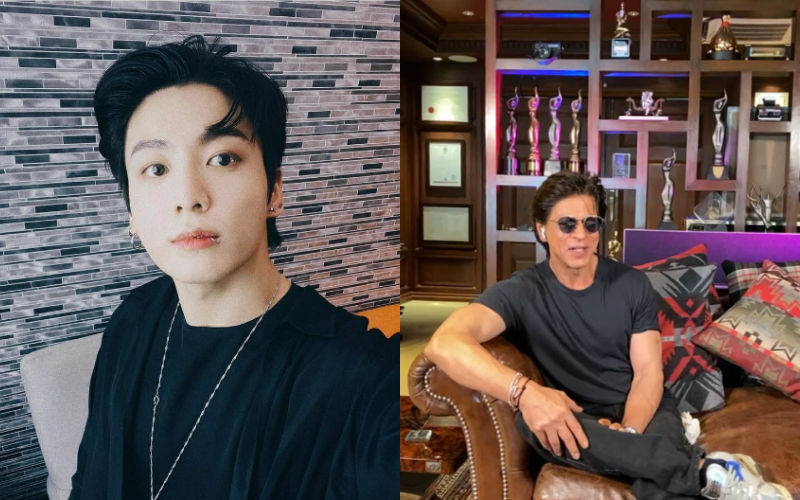 BTS is a very popular South Korean music band that never failed to grab eyeballs. There hasn't been a single day when they are not in the headline, either for their rumored relationships or concerts or for their fan edits. Today, one of the dedicated fans of BTS ARMY posted an edit of BTS' Jungkook imitating Shah Rukh Khan.
The BTS has a strong fan following across the globe and it is not wrong to say that they keep the band in news. One of the fans today, uploaded an edited video of BTS Jungkook reciting superstar Shah Rukh Khan's famous dialogue from the Bollywood blockbuster Mohabbatein on YouTube and it went viral in no time. The BTS ARMY is undoubtedly creative when it comes to editing.
Isn't it amazing to see Korean celebrities imitating Indian superstar?
Earlier, the South Korean boyband was seen reacting to King Khan's song 'India Waale' from 'Happy New Year' which was also loved by the fans very much.
The comment section was filled with compliments by fans and one of them wrote, "I'm proud to be an Korean and I love Indian so much", another one commented, "When he said Namaste India "I was like they are Best Ever" Love you 💜. We are proud to be Indian." Another fan wrote, "Feeling proud for being an Indian I love my India Sarangayo army". One of the users commented, "I'm so happy that BTS loves India too. They supported india alot in this pandemic thanks to u guys. Sarangayo bts and my bts army."
For the unversed, BTS is a musical band from South Korea of seven-member including V, Jin, Jungkook, Jimin, Suga, RM, and J-Hope. They are a music sensation releasing their first album in 2013. The band was discovered in 2010. Their fans call themselves A.R.M.Y., which stands for Adorable Representative M.C. for Youth.
Image Source: Instagram