BTS' Suga Receives A Marriage Proposal From An ARMY; Jungkook's Cute Reaction Will Make Your Heart Flutter - WATCH
BTS members recently went live. They spilt beans about their upcoming song and more. During the live, Suga received a marriage proposal and what caught our attention was Jungkook's cute smile. Check it out!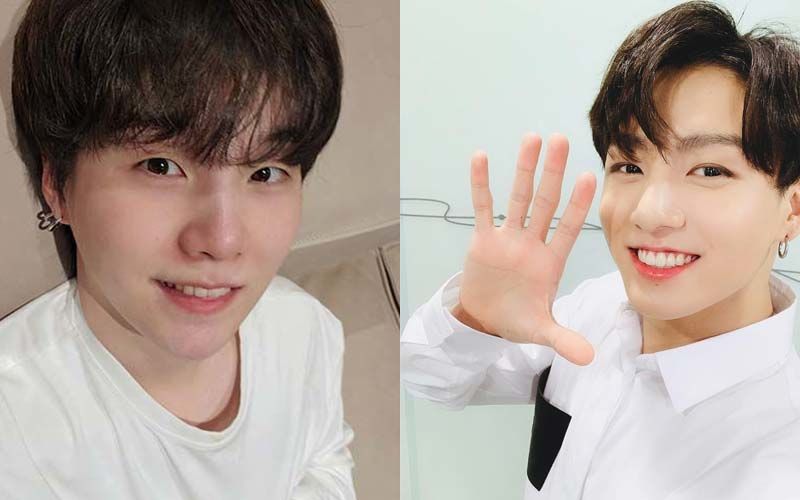 BTS members Jimin, Jungkook, RM, J-Hope, Jin, Suga and V enjoy great popularity worldwide and there's no denying that! The Bangtan Boys are always making headlines for multiple reasons. Be it breaking records with their new song Butter or stealing hearts with their selfies and more, BTS is always creating buzz and how! Well, as we speak of the biggest boy band, BTS members recently went live and interacted with ARMY members.
From talking about their upcoming song to joking with one another and more, BTS' VLive session was a treat. During the live, Suga received a marriage proposal from a fan and his reaction was priceless. However, Jungkook aka Golden Maknae's cute reaction to it will certainly make your heart flutter. In case you're having a bad day, JK's cute smile will make your day for sure.
On the other hand, BTS members also spilt some beans on their comeback. According to BTSChartDaily, members asked ARMYs to look forward to their new song. The members even mentioned that they like this song and it is better than their latest single Butter. It was a short live session but as always, chaotic and fun. For the uninitiated, Ed Sheeran recently revealed he has collaborated with BTS.
Appearing in the American radio show Most Requested Live, Ed revealed, 'I've actually worked with BTS on their latest record, and I've just written a song for their new record. And they're like super, super cool guys as well.'
Image Source:Instagram/BTSTwitter