BTS' V Makes Olivia Rodrigo Gasp As He Whispers In Her Ear, ARMY says 'Need To Know What Kim Taehyung Said'-WATCH
Olivia Rodrigo was seen gasping as BTS' V showed her a card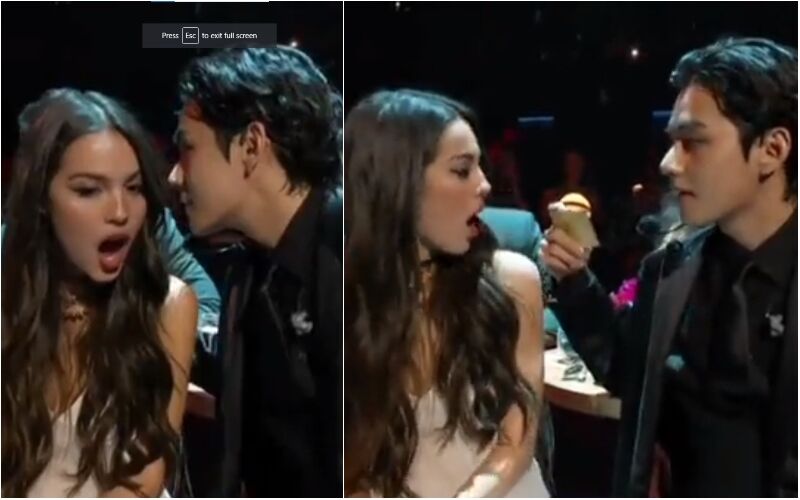 BTS' V left singer Olivia Rodrigo gasping during their stint at the Grammy Awards. Ahead of the BTS' Butter performance, V was seen sitting right beside Olivia in the audience as she smiled. He then nodded and whispered in her ear, well the internet is quite curious.

In the latest viral video, Olivia was seen gasping as V showed her a card. Later he pointed at the stage and flicked the card away and the duo also posed together for a picture at the ceremony. BTS performed their hit single Butter at the Grammys and were given a standing ovation.
Taking to Twitter, ARMY reacted to the viral clip of V and Olivia. A person wrote, "V just whispered into Olivia Rodrigo's ear… are you kidding me???????" A fan tweeted, "Kim Taehyung be looking at other girls I'm crying." Another fan also said, "Girl I saw it live & almost went into cardiac arrest."
A person tweeted, "Damn, our boy can act! That was so hot!!! Like I was not prepared!!! Kim Taehyung at Grammys is fire!!! Someone hold me...I'm crying right now!!!!!" "Olivia with Kim Taehyung excuse me???? BTS BTS BTS," said a fan. "Why Kim Taehyung flirting with ms Olivia sir, omggggggggg. bts bts bts," wrote a fan.
"This ?!?!?!?? part!?!?!?? I mean ?? Kim Taehyung freaking staring into Olivia's eyes?!?!? And whispering ??" tweeted a fan. "I need to know what Kim Taehyung said to Olivia," wrote a fan. "The entire World is talking about Kim Taehyung and Olivia Rodrigo's skit rn. Taehyung the main character," said a person.
BTS took the stage as they performed Butter, dressed in an all-black look. All the seven members--RM, Jin, Suga, J-Hope, Jimin, V, and Jungkook – acted as if they were secret agents with neon-blue lasers, dancing with smooth choreography before going into a brief rap portion of the song.
INterestingly, BTS was nominated in the best pop duo/group performance category for their song Butter at the recently held Grammys.
Image Source: Instagram