#CarryMinati Trends After TikTok Ban; Fans Rejoice And Flood Twitter With Hilarious Memes About The YouTuber's Reaction: 'This Is Called Karma'
#CarryMinati was trending on Twitter as the Government banned 59 Chinese mobile apps, including TikTok; memes on how the YouTuber would react are hilarious, check them out!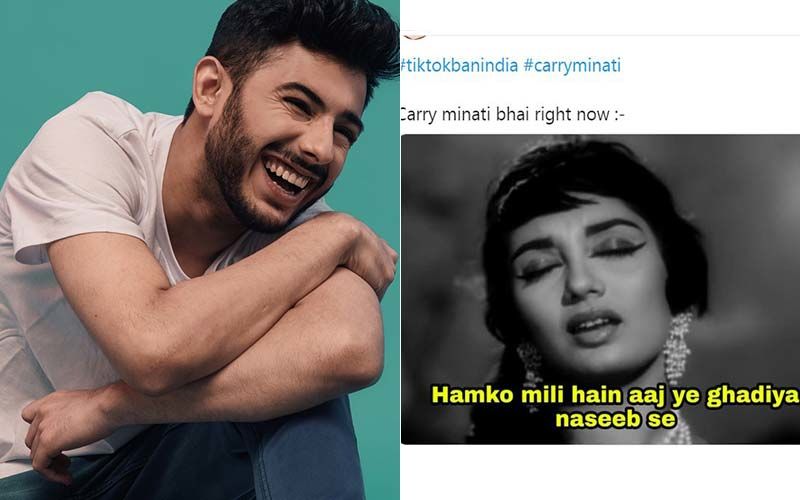 Amid escalating tensions between India and China following clashes at the border two weeks ago, there was outrage on social media over the usage of Chinese applications in India, and people demanded a ban on them. Yesterday, the Government of India banned 59 Chinese mobile applications, including social media platforms such as TikTok, Helo, among others. The decision was planned to ensure the safety and sovereignty of Indian cyberspace, and this move has been hailed by a lot of people. Amid all this, YouTuber CarryMinati aka Ajey Nagar was trending on Twitter, and the microblogging platform was flooded with memes on how the YouTuber would react to this news.
A few weeks ago, TikToker Amir Siddiqui had shared a video taking a dig at YouTubers and YouTube community. The YouTube vs TikTok controversy escalated as CarryMinati then roasted Amir in his video, which was later pulled down by YouTube for violating its terms of service. Back then, many came out in support of CarryMinati, trending hashtags on Twitter. As the controversy grew, a lot of people were also demanding a ban on TikTok. Now that TikTok has been banned, people have been sharing some really hilarious memes on Twitter, predicting how CarryMinati would react.
Many referred to CarryMinati in the memes as the 'happiest person' since the rival medium has now been banned, while many shared memes about the ban being 'Karma'. Take a look at the memes below:
An excerpt from the press release announcing the ban stated that the move to ban these Chinese apps will 'safeguard the interests of crores of Indian mobile and internet users'. Check out the full list of Chinese apps banned by the Government,
and read more about it here.
Image Source: Twitter/ketannag18, Instagram/carryminati