Cockroach Gatecrashes Met Gala 2023, Walks The Red Carpet; Internet Calls It 'Best Dressed'-WATCH!
A single cockroach was spotted wandering the red carpet that was captured by the paparazzo and a meme of him clicking a picture has taken over the internet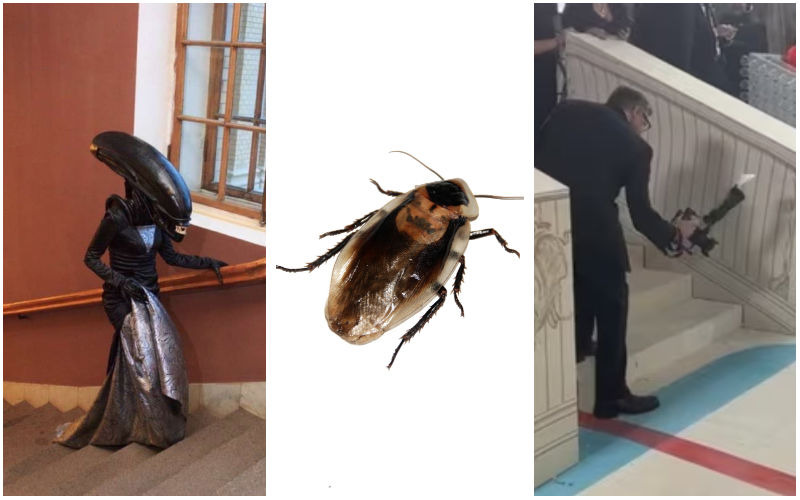 The 2023 edition of the Met Gala saw a dramatic entrance of a cockroach, and netizens dubbed it as the 'best dressed'.

On Monday evening, stars descended upon Met Gala 2023's red carpet which was held at the Metropolitan Museum of Art in New York City. The lavish star-studded event saw the appearance of heavyweights like Jennifer Lopez, Rihanna, Robert Pattinson, and Dua Lipa to trendy favourites like BLACKPINK's Jennie, Jenna Ortega, Jackson Wang et al, most of your fave celebs were in attendance.
The 2023 event saw a host of celebrities and artists pay homage to the legendary designer Karl Lagerfeld, but there was one unlikely, and uninvited guest that quickly caught the attention of the media.
However, a cockroach was spotted on the red (white, red, and blue) carpet which instantly became viral on the internet in no time.
A single cockroach was spotted wandering the red carpet that was captured by the paparazzo. The video was uploaded on Twitter which instantly grabbed everyone's attention on the internet and users reacted hilariously to it.
Reacting to the viral video, one wrote, "Ok now THIS is the best outfit of the night (laughing face emoticons)." Another said, "Serving the best look of the night. The photographer making her feel like the queen she is." Another user wrote, "Best dressed celebrity right here."
"This is how serious I take my job!!" quipped another, referring to the photographer who even followed the cockroach to take more pictures.
Meanwhile, Variety reported that the cockroach later stepped on the red carpet. "It is with deep sadness that we must report the #MetGala cockroach was stepped on. #RIP" said the tweet from the official Twitter handle.
Image Source: Instagram