Demi Lovato Faces Backlash For Singing 'Skyscraper' to GHOST And Help It Overcome Trauma: 'Someone Needs Her Meds Adjusted'
Demi Lovato sang 'Skyscraper' to a ghost who was struggling with the trauma of sexism in the afterlife.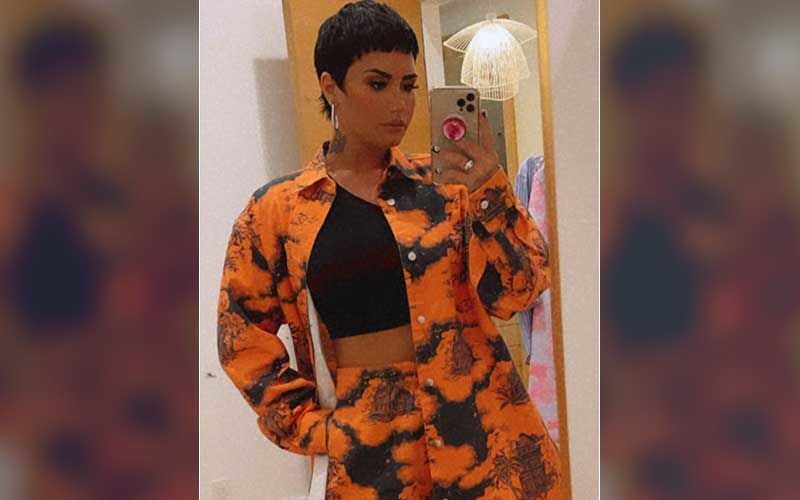 Demi Lovato has found herself at the receiving end of the trolls as a clip from her new docuseries Unidentified With Demi Lovato went viral. The singer sang 'Skyscraper' to a ghost who was struggling with the trauma of sexism in the afterlife. Demi, who identifies as non-binary, executed their latest stint on their Peacock TV show.

The show was apparently shot in a haunted town named after Vulture City in Arizona, US.
Now, a snippet of one episode was shared by Demi on her Instagram profile back on September 30, showing her experience inside a 'haunted' brothel has irked netizens and for an odd reason too.
Lovato had visited the abandoned Arizona town which is located at the site of the defunct Vulture Mine in Maricopa County, with pal Matthew Scott and paranormal investigator Chris Smith. There the trio went inside a ruined brothel and called 'Carmen' — "a ghost with distinctly feminist leanings and a lingering grudge against men after being mistreated by the opposite sex in life," as reported by The Daily Mail.
Lovato, along with Scott and Smith, tried to contact the spirit using EMF — an instrument apparently used to speak with otherworldly beings.
In the video, the trio starts asking questions and waiting for the spirits to respond. But, the presence of two men did not gain her any response on the EMF.
After they leave, Demi asks, "Did you not want to say anything else because the boys were in here?", and the detector starts making noises. "She has trauma. That's why she doesn't like men," Demi declares in the clip.
She goes on to say, "Well I always sing 'Skyscraper' when I feel like singing something emotional," and performs the song. The song was followed by a lot of noise which the trio took as a standing or maybe 'floating' ovation.
The video has garnered over 2.6 million likes and was re-shared on Reddit. But, Redditors found the video extremely stupid and termed it a charade.
Meanwhile, even the Twitteratis seem to be unappealed by Demi's latest attempt. A user tweeted, "I'm embarrassed for her...not really, but definitely worthy of embarrassment." The second one wrote, "Someone needs her meds adjusted."
I'm embarrassed for her...not really, but definitely worthy of embarrassment.

— Ame Rican (@SharonC43923903) December 22, 2021
The attention-seeking is next level with this chick.

— Phillipa Coleman (@ColemanPhillipa) December 22, 2021
"The attention-seeking is next level with this chick" the third user added. A tweet read, "Someone give her a low fat cupcake." Another added, "I hope this is for attention and people aren't this mad."
I hope this is for attention and people aren't this mad.

— Fraser Carruthers (@FCarruthers) December 22, 2021
Image Source: Instagram/ddlovato