Demi Rose Sizzles Under The Sun With NOTHING But Thong, Puts Her Underboobs And Curvy Hips On Display
Demi Rose basked under the sun as she posed topless, flaunting a thong in the desert.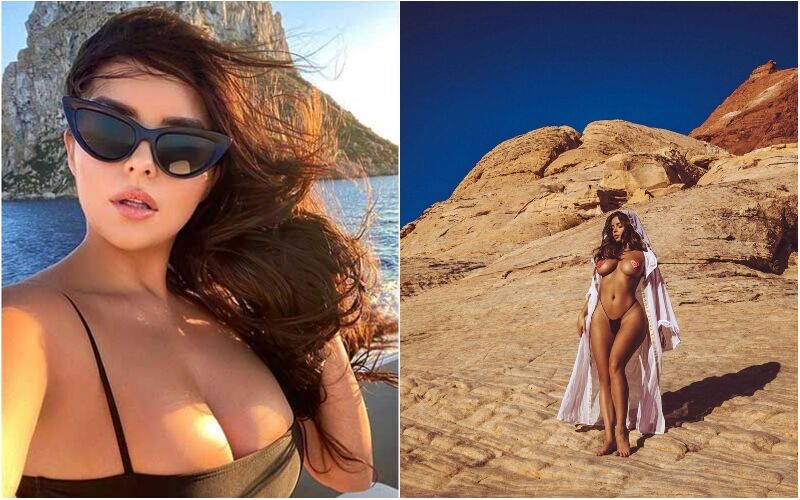 British model Demi Rose, 26, is soaring the temperatures on the internet with her sizzling new photos.

The social media influencer and global ambassador of PrettyLittleThing treated her 18.6 million Instagram family with another tantalizing update. Her recent post went viral in no time as Demi posed topless, flaunting a thong that left very little to the imagination.
In the picture, Demi posed in the backdrop of a rocky mountain. She geotagged her picture as "Mars" considering the look of the place.
Demi stood barefoot and on tiptoes, while basking under the sun posing in the middle of the frame with her arms hanging on her sides. Her background consisted of the blue sky and the rocky exterior of the mountain. The bright sunlight enveloped her body, and it made her flawless skin glow.
The model tapped her nipples in hearts with red and white colours.

For coverage down below, she rocked black bottoms with a tiny piece of fabric that covered her privates. Her ultra-revealing display left her underboob, taut tummy, curvy hips, and toned pins on full display.
The influencer styled her brunette locks in loose waves, letting the strands fall on her shoulders with the ends grazing her décolletage.
Recently, Demi Rose grabbed attention as she treated her fans to a racy Instagram post on Monday during her sun-soaked California getaway.
The model ramped up the heat as she flashed her toned legs in a silver-and-black zebra print leotard, which she layered beneath a black floral shawl.
Image Source: Instagram/demirose