Did Nicki Minaj Take Potshots At Demi Lovato's Pansexuality With Her New Song, 'Do We Have A Problem'
Nicki Minaj's easily managed to break the Internet and quickly secured the numero uno position on US iTunes.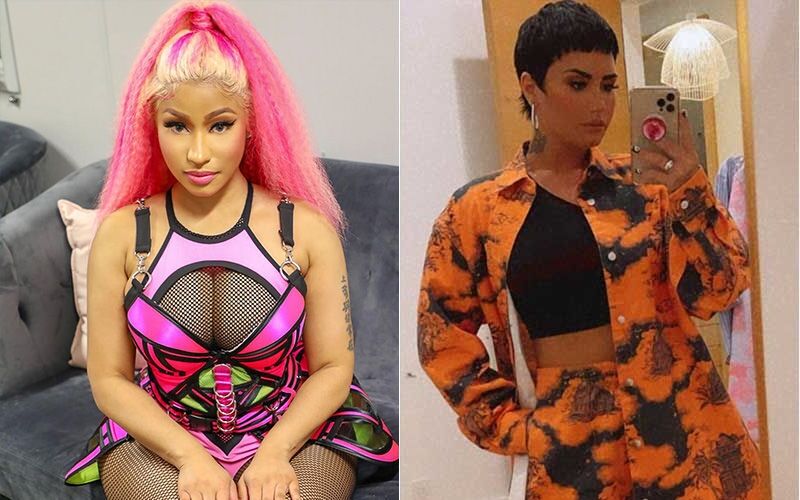 Trinidadian rapper Nicki Minaj made an epic comeback with her explosive single 'Do We Have A Problem' as she collaborated with Atlanta native Lil Baby on Friday, January 4. The song easily managed to break the Internet and quickly secured the numero uno position on US iTunes.

Interestingly, Nicki's fans have loved her new avatar of double-crossing agent in the video, some of the fans wondered if she took shots at her rival of many years- Demi Lovato.
However, a controversy erupted following the release of a song after a fan pointed out the specific lyrics where it seems that the rapper might have taken a dig at Lovato. The feud between the two started way back in 2016 after Nicki and Demi landed on the red carpet of the Met Gala with designer Jeremy Scott. In 2018, Demi had revealed that they were forced to attend the event with someone who wasn't exactly friendly.
Incidentally, some believe Nicki took potshots at Demi Lovato with new lyrics as she raps, "Heavy on the ski mask, too / And the ski mask ain't for the pan-demi' / It go with the semi, paid a pretty damn penny".
While Nicki Minaj cleverly split the word pandemic and made it short, social media users assumed the rapper took shots at her pansexuality. Clearing the air on the matter for once and all, Nicki replied to a fan saying, "Whet is THIS honey? Chi I just shortened the word pandemic bye."
Lovato came out as pansexual in March 2021. The 29-year-old songstress on 'The Joe Rogan Experience' podcast opened up about their sexuality saying they were attracted to both men and women and "anything" in between, as reported by Today.
They stated, "I'm so fluid now, and a part of the reason why I am so fluid is because I was, like, super closeted off." In May 2021, Lovato announced themselves as non-binary and changed their pronouns to they/them.
Image Source: Instagram/