Donald Trump And Melania Trump Awkwardly Pose Against The Taj Mahal During India Visit - PICS
US President Donald Trump and First Lady Melania Trump have come to India on February 24, 2020. After spending time in Ahmedabad, the couple then visited the Taj Mahal in Agra, where the two were seen posing against the backdrop of the 'incredible' monument. But, the duo looked quite uncomfortable and awkward in the photo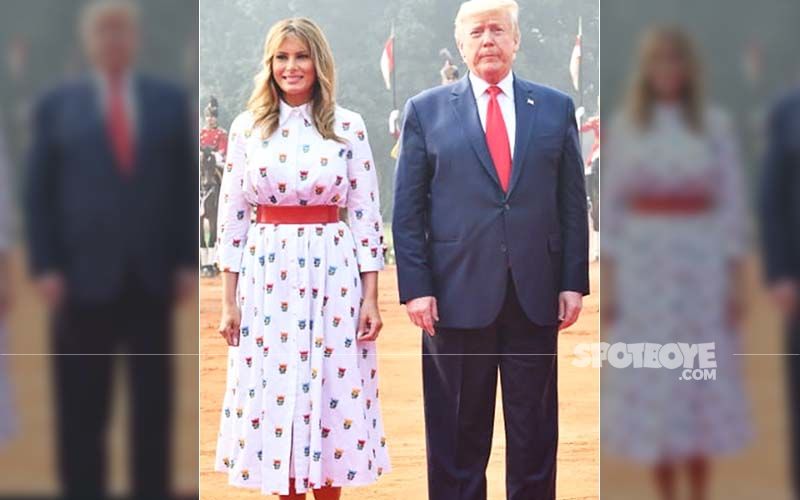 The Prime Minister Of India, Narendra Modi welcomed US President Donald Trump and First Lady Melania Trump to India on February 24, 2020. The duo and their daughter Ivanka Trump and her husband Jared Kushner also accompanied the President and First Lady of the United States in Ahmedabad for a 36-hour visit to India. The family first went to Ahmedabad's Motera Stadium brimming with people and then they left for Agra to see one of the Seven Wonders of the World, Taj Mahal. We even got to see a few pictures Donald Trump with his wife Melania Trump where they are seen posing against the backdrop of the 'incredible' Taj Mahal.
Taj Mahal symbolizes love and passion, the president called the Taj Mahal "incredible, truly incredible, really incredible." However, the photo of the president with his wife, seemed nothing like that as they looked quite uncomfortable and awkward in the photo. Well, we came across a picture where Donald and Melania are seen standing in standees, rigidly, without even touching each other at all. If you look at the picture closely, they're not even holding hands, they're barely even grazing fingers as they pose on the Taj Mahal lawn.
For their outing, Trump was seen in 3 piece suit, pairing it with a bright yellow tie, on the other hand, Mrs Trump was seen wearing pristine white pantsuit with a bottle green golden work stole around her waist that was standing out. She completed her outfit with white pumps.
Melania and Trump were received at the Rashtrapati Bhavan by President Ram Nath Kovind and his wife Savita Kovind along with Prime Minister Narendra Modi.
Image source: aphimages