Dussehra 2021: Date, Puja Muhurat, Vidhi, Mantras, Significance And History - All You Need To Know
Dussehra 2021: Date, Puja Muhurat, Vidhi, Mantras, Significance and History - All You Need To Know - Make the most of this festival!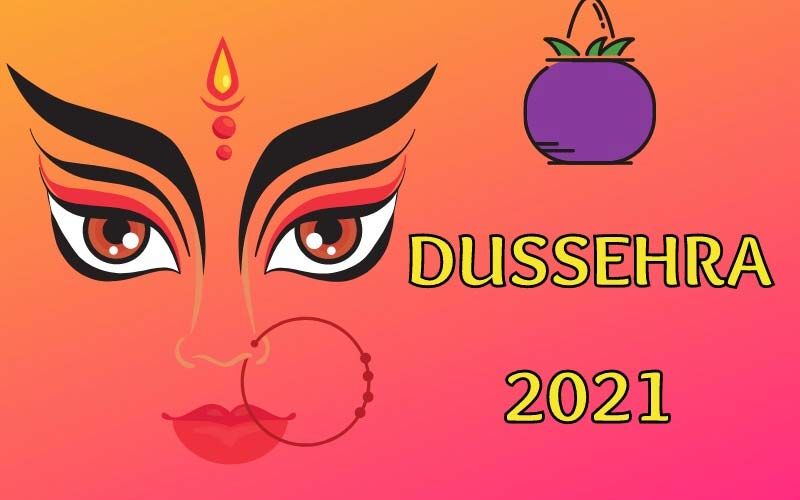 The Dussehra is approaching and so will end the Navratri festival as well. Now, people have started the preparation for Dussehra with full enthusiasm. This year the auspicious festival of Dussehra will be observed on October 15. The festival of Dussehra is a celebration of colors, lights, sweets, fun, and frolic. Dussehra is observed exactly 20 days before the grand festival of lights, Diwali.
Here are the details of the festival which will help to know all about this special day.
HISTORY OF DUSSEHRA
The history of Dussehra starts in 5114 BC when Lord Shri Rama accomplished his glorious victory over Ravana. Lord Rama is known for the eighth incarnation of Lord Vishnu and it was on the 10th day of Vijayadashami that he killed the ten-headed demon to fight with Ravana and rescue his wife, Sita. Therefore, Lord Shri Rama created his team along with his younger brother Lakshman and Hanuman, his devotee.
It is said that the first Durga Puja celebrations were observed during 1500 BC in Dinajpur and Malda. Lord Rama offered his prayers to Goddess Durga and worshipped her that ended up in his victory at the time of going for the war. The history of Durga Puja celebrations also marks Goddess Durga's killing of the demon Mahishasura.
DUSSEHRA 2021 SHUBH MUHURAT
Vijay Muhurat – 14:01 to 14:47
Aparahna Puja Time – 13:15 to 15:33
Dashami Tithi starts – 18:52 on Oct. 14
Dashami Tithi ends – 18:02 on Oct. 15
Shravana Nakshatra starts – 09:36 on Oct. 14
Shravana Nakshatra ends – 09:16 on Oct. 15
DUSSEHRA SIGNIFICANCE
This festival has several significances. It has different reasons to celebrate in different states. In West Bengal, this festival is marked as the celebration for the victory of Goddess Durga over the demon Mahishasura. So, the Idols of Maa Durga, Saraswati, Lakshmi, Lord Kartikeya have carried out the state in a procession with music and chanting. Women apply vermilion and colors are spread in the air all over the place. They celebrate Dussehra as Bijoy Dashami. In some other states, it is celebrated as Vijayadashami, which is the celebration of Lord Rama's victory over Ravana, who took hostage Goddess Sita. it is also believed that before leaving for war, Lord Rama worshipped Goddess Durga for his victory and was showered with her blessings.
DUSSEHRA PUJA VIDHI
It is believed that on the day of Dussehra, Shami Puja, Aparajita Puja, and Seema Avalanghan are some of the Puja rituals performed which are followed during the Aparahan time.
WEAPONS WORSHIPPED ON VIJAYADASHAMI
It is believed that worshipping during the Vijaya Muhurat is considered very auspicious on this day. Kshatriyas (Administrators) and other warriors worship their weapons or 'astra' on this day. The worshipers also apply turmeric and vermillion on the weapons. Lord Rama and Goddess Durga both are and this puja makes sure to remove all your obstacles and hurdles in life. Also, it is suggested to keep coins and vermillion, rice, flowers, and dry dates in two separate bowls. Banana, radish, jaggery. Also, light the Diya and incense sticks.
DUSSEHRA CELEBRATION
While in Northern India, one of the most famous occurrences during Dussehra is organizing a play which is called 'Ramleela', various artists enact the Ramayana. This is very popular in Varanasi, Agra, and the rest of UP. As we discussed earlier also that, people sow barley seeds on the first day of Navratri which completely grows by the 10th day. Post that they are then plucked and gifted to each other for good luck and prosperity.
The most important ritual is the burning of the effigies on Dussehra. Dussehra also marks the end of summers and the beginning of winters. In West Bengal, the festival is also called the festival of colors. On this day, people also participate in the visarjan of the idol. Before immersing women play 'Sindoor Khela'. In this ritual, women apply vermilion on the idol and also on each other and bless each other for a happy married life.


THINGS TO DO ON DUSSEHRA
People buy electronics, vehicles, and gold ornaments on this day. One should worship the Shami tree on the occasion of Dussehra which is considered very auspicious. Any new job work can start in Dussehra. In some parts of country fairs, one can also visit the famous fair which is organized on this day but since after the pandemic everything is virtual, one can perform a little Ravana Dahan ceremony in your own house and celebrate the victory of good over evil.
SpotboyE Wishes Happy Dusshera! #Stay Home #Stay Safe



Image source: SpotboyE Team