Elon Musk Slammed For Challenging Vladimir Putin To 'Single Combat', Internet Says 'He'll Get His Butt Whopped'
Elon Musk piqued the Internet's attention after he challenged Russian President Vladimir Putin for single combat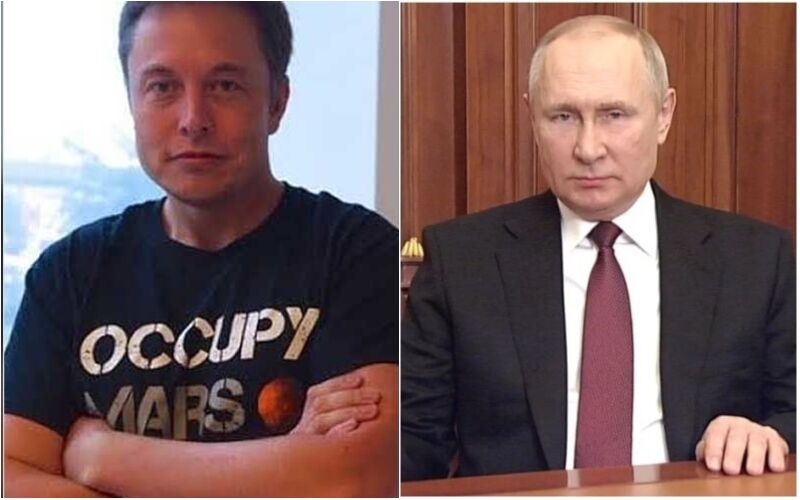 Tesla CEO Elon Musk was hailed as a hero after he rushed to Ukraine's help by providing access to Starlink giving them quick internet after Russia compromised its following cyberattacks in the last week of February.

Interestingly, Musk piqued the Internet's attention after he challenged Russian President Vladimir Putin for single combat. Taking to Twitter the SpaceX boss decided to throw a challenge at Putin after he kickstarted the "special military operation" in Ukraine.
I hereby challenge
Владимир Путин
to single combat

Stakes are Україна

— Elon Musk (@elonmusk) March 14, 2022
Shortly after the tweet went viral, social media users swiftly reminded Musk that Putin was a trained martial artist and that he would get his butt whopped. Musk had also tagged Kremlin's official Twitter account asking if they agree to fight.
Musk, one of the richest men on the planet, extended their support to Ukraine after he expressed his wish for single combat with Putin.
He first tweeted, "I hereby challengeВладимир Путин to single combat adding "Stakes are Україна," using the Ukrainian spelling for Ukraine. His tweet translates to, "I hereby challenge Vladimir Putin to single combat. Stakes are Ukraine." In the same thread, he tagged Kremlin and asked, "Do you agree to this fight?"
Ты, бесенок, еще молоденек,
Со мною тягаться слабенек;
Это было б лишь времени трата.
Обгони-ка сперва моего брата.

А. С. Пушкин "Сказка о Попе и работнике его Балде" https://t.co/KuR328iH20

— РОГОЗИН (@Rogozin) March 14, 2022
Musk's tweet got a prompt revert from Dmitry Rogozin, director-general of the Russian space agency, Roscosmos. He tweeted, "You, little devil, are still young. Compete with me weakling; It would only be a waste of time. Overtake my brother first." He then cited the 17th fairytale by Russian poet AS Pushkin titled "The Tale of the Priest and of His Workman Balda."
Hours later Musk reverted with a meme where he is seen using a flamethrower while Putin rides a wild bear in a morphed picture. Musk, while sharing the meme said, "I see you are a tough negotiator! Ok, you can have 10% more pay per view money." Musk's challenge came after YouTuber-turned-boxer Jake Paul had shared a tweaked boxing poster of himself and the Russian president recently.
For the unversed, Putin is a judo black belt while it is reported that Musk is trained in Brazilian jiu-jitsu.
Image Source: Instagram