Ex-Porn Star Mia Khalifa Reveals Spending $13,000 On Her Boobs, Fans Express Shock 'Wait They Aren't Real?'
Mia Khalifa's latest TikTok video has come under controversial glare as she hints at having breasts.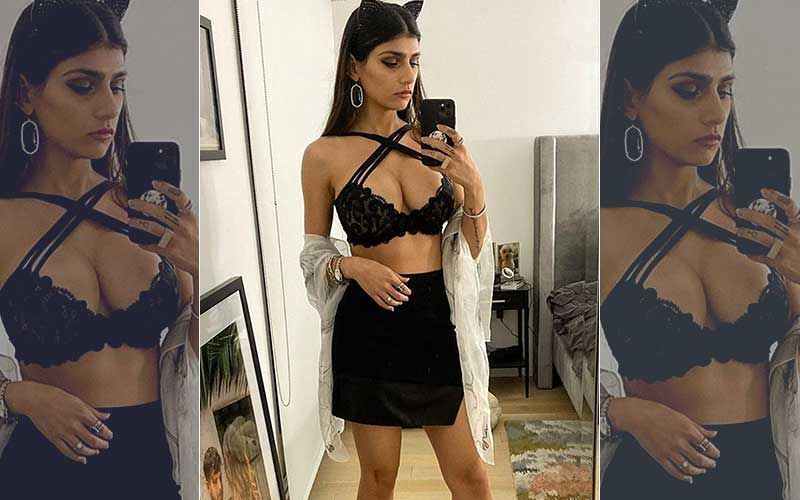 Mia Khalifa caught her fans and followers by surprise with her latest TikTok video. The former adult film star sparked chuckles and criticism for her recent sketch about her 'future' daughter who would need to spend a lot of money on fake breasts if she had any hope of resembling her infamous mom.

The recent video has been under controversial glare as skin-fluencer's sketch racked up 7.3 million views on TikTok as of Wednesday morning.
In the now-viral clip, which had the captioned "Sorry babes", the 28-year-old can be seen acting out a discussion between her and her future baby.
"Mommy I can't wait to look like you when I get older," the imaginary daughter says. Khalifa retorts: "Mommy spent $13,000 on her boobs and $15,000 on her nose — so you better start saving."
The skit left Mia's audience baffled and their expressed shock over the retired adult star's breasts, which were once injured by a hockey puck, were actually enhanced.
"I always thought they were real they look so good in the most respectful way," exclaimed one user.
"Wait they aren't real?" another flabbergasted fan chimed in. Another follower wrote, "It was a good investment tho."
Meanwhile, one critic wondered how Khalifa could afford such expensive alterations even after reportedly only making $12,000 as a porn star.
Die-hard fans will recall that Khalifa scaled great heights, not exactly profitable, in the adult industry in 2014. She also generated international headlines for claiming she received ISIS death threats as recently as 2018 over a scene she filmed in a hijab.
"People think I'm racking in millions from porn," she revealed in 2019. "I made a TOTAL of around $12,000 in the industry and never saw a penny again after that. Difficulty finding a normal job after quitting porn was… scary."
Images Source: instagram/miakhalifa