Ex-Pornstar Mia Khalifa's Luxury Miami Cruise Nearly Interrupted By CREEPY Stalkers By Follow Her Boat-DETAILS BELOW!
Mia Khalifa is on a world trip right now, and in her latest Instagram story boasted about her splendid boat ride, but her luxury cruise was targeted by a group of shady men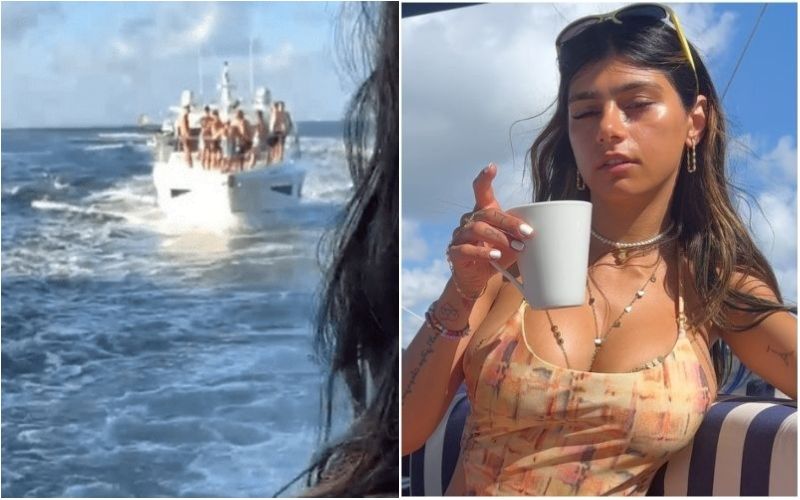 Mia Khalifa is an avid social media user and she has been decorating the headlines with her sultry pictures and videos from her latest tropical vacation. But, at times travelling in a foreign country might be offsetting, and like many of us, she faced an uncomfortable experience while she was sailing out on a Miami boat.

The legendary ex-Pornhub star is on a world trip right now, and Mia began her latest Instagram story by boasting about her splendid boat ride, but things soon took a sordid turn as she appeared to be targeted by a group of shady men on a different boat.
In the video, approximately ten men can be seen standing in front of the boat that chased hers swiftly. Mia appeared creeped out by the sudden approach, but it seems nothing came of it as she hasn't provided any update hence. However, she did share more photos and videos from her boat, without the disturbing stalkers in tow.
For her nautical outings, the OnlyFans star hired a lovely boat and earned the nickname 'sugar daddy' from her friend and fellow fashion model Jenna Lee, who joined Mia for the memorable day. The group had a phenomenal time in Miami and the ladies did everything in their power to make the most of it.
Interestingly, Jenna and Mia put out a bold display of their sensuality by showing off their curvaceous figures in revealing black bikinis. The Pornhub Queen also wowed her fans in a stunning bikini picture which featured her busty assets while she captioned 'lil booties matter'. Mia did not shy away from pulling off a sultry pose for the racy snaps as she showed off her gorgeous figure, from all angles in a tiny tiger print bikini that barely covered her assets.
Apart from sharing raunchy glimpses into her everyday life showing her risqué and sexy outfits, she also aims at spreading body positivity and encouraging debates around women's empowerment.
Image Source: Instagram