FACT CHECK: Is KBC Giving Away Rs 25 Lakh Lottery? PIB Warns People And Issues Clarification
PIB warns people against a lottery scam which is allegedly organised by KBC and Reliance Jio.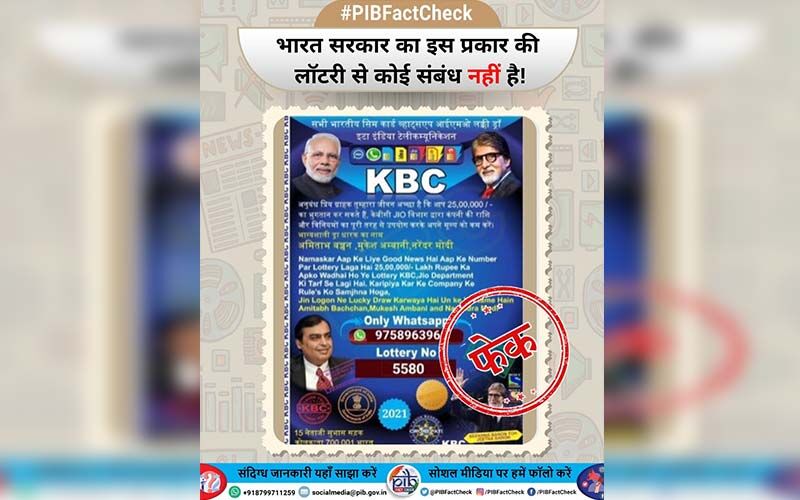 WhatsApp, the instant messaging app, has become the underbelly of cybercrime. A new WhatsApp scam has emerged, and scammers have once again resorted to the popular game show Kaun Banega Crorepati (KBC) for duping people.

The fraudsters are trying to scam people through phone calls, text messages and emails claiming that they have won Rs 25 lakh in a lottery jointly organised by KBC and Reliance Jio.
In order to warn people against a lottery scam, the government decided to educate the masses from social media itself. The official handle of Press Information Bureau (PIB) Fact Check shared an image of the scheme on Twitter and clarified that it was a fake scheme and the government has no connection with it.
The PIB further mentioned that the scamsters try to dupe people through phone calls, emails, and text messages, claiming that they have won a lottery for ₹ 25 lakh. "Please beware of such lottery scams. Do not share personal details on phone calls, emails or text messages," it added.
The latest PIB post also provided a link to Delhi Police's Cyber Cell in its Instagram handle that offered more details about the "KBC Lottery Frauds" and asked people to follow some precautions when dealing with such claims.
Meanwhile, The Delhi Police Cyber Cell has also warned people to take a closer look at such messages as these are often drafted poorly with grammatical errors. The police asked people to discuss with family members if they receive such a message.
Image Source: Twitter/PIBFactCheck