FACT CHECK! Sharing COVID-19 Related Messages Is Punishable Offence By Government? Here's The Truth-DEETS BELOW!
Press Information Bureau (PIB) fact-checked the viral post and it turns out to be fake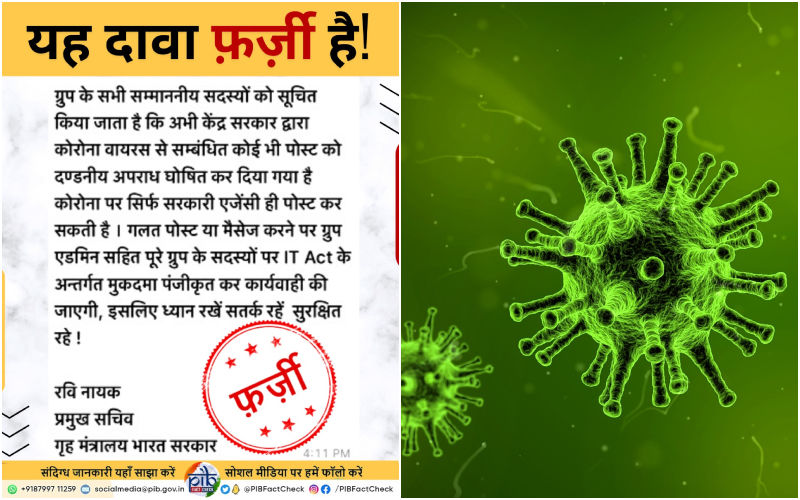 Amid the unprecedented surge in COVID cases across the globe, netizens are reeling with yet another problem and there seems to be no antidote for the same. As per the reports, a fake message claiming that sharing messages related to the coronavirus on WhatsApp can land you in trouble as the government has declared it a punishable offence.

The viral message claims: "Sharing COVID-related posts on social media has been declared a punishable offence by the government. Only government agencies can share information related to the disease. An FIR will be registered under the IT act against the WhatsApp group admin and all the members if they share any misleading post or message."
However, the Press Information Bureau (PIB) fact-checked the viral post and it turns out to be fake.
क्या केंद्र सरकार द्वारा कोरोना वायरस से सम्बंधित पोस्ट करने को दण्डनीय अपराध घोषित कर दिया गया है❓#PIBFactcheck

✅ नहीं, लेकिन #COVID19 जैसी गंभीर बीमारी पर सही और विश्वसनीय जानकारी साझा करना अत्यंत आवश्यक है‼️

✅ ज़िम्मेदार नागरिक बनें और केवल सही जानकारी शेयर करें‼️ pic.twitter.com/kPPryTwBDv

— PIB Fact Check (@PIBFactCheck) December 27, 2022
CLAIMS: Sharing COVID-related messages on WhatsApp is a punishable offence.
FACT: These claims are FAKE. No such announcement has been made by the Central Government. However, sharing accurate and reliable information on a serious illness like COVID-19 is of utmost importance.
7-DAY LOCKDOWN IN INDIA
Earlier this week, another screenshot from fake news from YouTube Channel (CE News) said that a lockdown will be imposed in India from December 24 and the restrictions will remain in force for a week.
It also added that the decision was taken by Prime Minister Narendra Modi in an emergency meeting. The viral post turns out to be fake as the government has stated that the situation is under control in India.
Interestingly, the government has been adopting a few strict measures to fight the spread of COVID-19, owing to the spurt in China, and no decision to punish those sharing information on COVID-19 has been taken.
The government has time and again said that the information that is shared must be genuine and no attempts should be made to spread panic and confusion among the people.
Image Source: Instagram