FIFA World Cup 2022: WC's 'Sexiest Fan' Causes Outrage In Qatar As She Risks Country's Decency Laws By Wearing BOLD Outfit-PICS INSIDE!
A football supporter is being dubbed as the World Cup's 'sexiest fan' after she was spotted wearing a revealing outfit in Qatar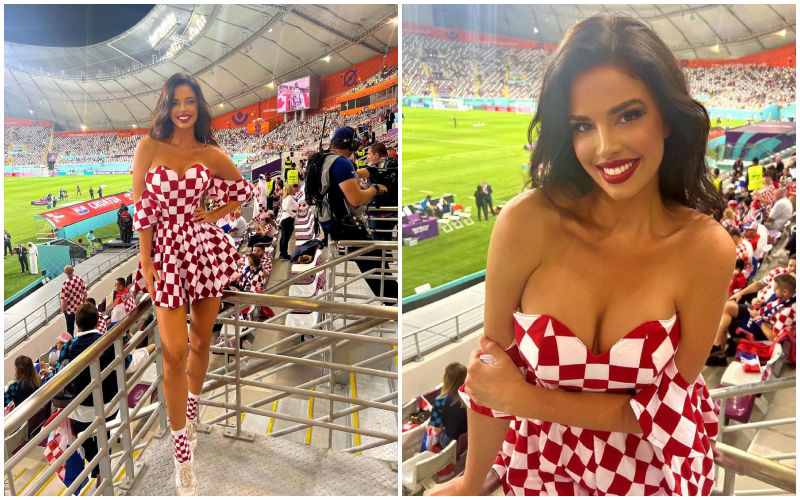 Sadly, the FIFA World Cup 2022 does not seem to be going as planned, owing to the slew of new laws being decreed in the country. Qatar which is the host nation for this year's world cup took a major U-turn in overlooking tight regulations which were planned ahead of the international tournament.

However, some are actively trying to break the tight regulations which would even land them behind bars.
Now, a football supporter is being dubbed as the World Cup's 'sexiest fan' after she was spotted wearing a revealing outfit in Qatar, despite the country's strict laws.
Ivana Knoll effortlessly managed to turn heads in the Muslim nation by sizzling in a Croatian-themed outfit around the conservative streets of Doha. The former Miss Croatia posted her risky photoshoot images on Instagram for her followers and she did not forget to tag FIFA in the same.
The 30-year-old diva was spotted wearing a rather skimpy outfit with a plunging neckline at the Al Bayt Stadium on Wednesday, as Croatia endured a goalless draw against Morocco.
Despite being heavily criticised for disrespecting local customs, she did not show any signs of stopping after uploading snaps of herself splayed out by a pool in a Croatia-themed spaghetti-strap bikini, which left absolutely nothing to the imagination.
Interestingly, she has been flaunting her curves all tournament and she does not plan on stopping anytime soon!
According to DailyStar, the Qatar tourism authority warned, "Visitors (men as well as women) are expected to show respect for local culture by avoiding excessively revealing clothing in public." They added, "It is generally recommended for men and women to ensure their shoulders and knees are covered."
Well, the tight regulations clearly do not bother Ms Knoll and she does not plan on slowing down. She hasn't been afraid to hit out at the host nation for what she describes as "the worst" organisation of a World Cup tournament in history.
She also told her Instagram followers: "This is a disaster!" I feel sorry for all the people who can't go to the World Cup because of the worst organization in history."
"My entourage didn't get a Hayya card [a Qatari visa] even after 20 days, even though they have all the tickets to the final," she fumed. "All our friends too!"
Image Source: Instagram