Former Porn Star Mia Khalifa Tries Being 'Extra' As She Gives Fans A Glimpse Of Her Wedding Gown – VIDEO
Ever seen Mia Khalifa being extra? Well, fret not, here's a sneak-peek into the former porn star's stunning wedding gown, as well as her extra-dramatic behaviour!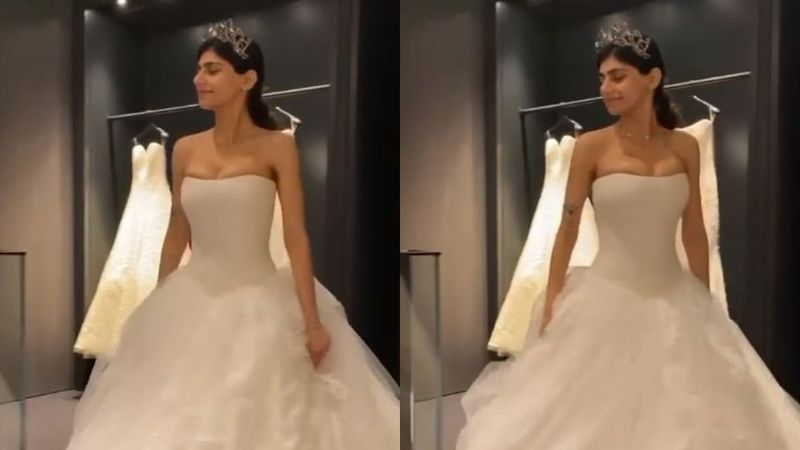 It has been a long time since Mia Khalifa bid goodbye to the world of the adult industry and, now, she is all set to start afresh with her chef boyfriend, Robert Sandberg. It was some months back that Mia brewed a storm across the internet after she announced her engagement to Robert, by flaunting her beautiful diamond ring. Well, fast forward to now, Mia is all set to walk down the aisle and preparations for the same have kick-started in full swing. (ALSO READ -
Mia Khalifa Opens Up On How Adult Film Industry Gave Her Traumatic Stress Disorder And Ruined Her Ties With Family
)
Taking to her Instagram account, the former porn star gave fans a sneak peek into what it looked like her wedding dress and it's all things gorgeous. However, it was Mia Khalifa being extra that caught our attention. The ex-sports commentator-turned-adult star was wearing a baby pink off-shoulder gown that had a massive sheer bottom attached to it. The clip further sees a woman crowning Mia Khalifa, as she walks in pride and sits down as a queen. Gorgeous, isn't she? In her caption, Mia wrote, "Imagine if I was this extra. *if*." Oh, we absolutely don't being you this extra, Mia!
Check out the clip below:
Meanwhile, Mia Khalifa and Robert Sandberg had decided to tie the knot in summer of 2021; however, the former recently announced that the duo will now get married a year before. "Yesterday Robert and I called an audible on our life and decided to get married THIS UPCOMING SUMMER instead of summer 2021 as planned. Time to plan a wedding that's 6 months away, this should be anything but fun," wrote Mia Khalifa.
image source: instagram/miakhalifa