GROSS! Kendall Jenner Literally Had Pee On Her Feet While Posing On Met Gala 2022's Red Carpet; Shares She Relived Herself In An Ice Bucket-READ BELOW
Kendall Nicole Jenner has once again invited stern looks from netizens as she resorted to peeing in a car as she had to relieve herself really badly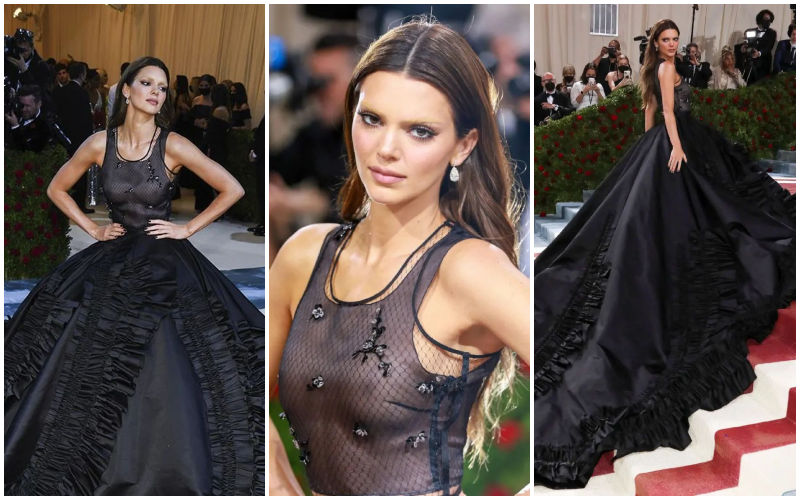 Well, there's no denying, fashion comes at a cost and at times one seemingly has to go shameless to put on a stunning outfit. It's obvious, sacrifices need to be made for the breathtaking appearance at the Met Gala, which is known to be one of the most prestigious events in the celebrity calendar, with anybody who is anybody vying for an invite to walk the famous stairs in a showstopping outfit.

Every year, the bigwigs from across the globe effortlessly manage to wow as they pose in designer gowns which are put together, especially for the Met's chosen theme.
Let's just agree, the Kardashian and Jenners can go to extreme lengths to be photogenic and they don't even mind doing something equally outlandish; reminding you that stars are nothing different to us.
Supermodel Kendall Nicole Jenner, has once again invited stern looks from netizens as she resorted to peeing in a car as she had to relieve herself really badly. The model was enroute to Met Gala and she accidentally spilled her pee on her Prada shoes.
Well, it just couldn't get any gross!
The disgusting saga was recounted on this week's episodes of The Kardashians where Kendall had to find a desperate bathroom solution just before making her way up the steps of the Met Gala.
"I need to drink a sip of water, and I need to pee. Nobody judge me," she told her entourage in the van. Apparently, there was nowhere to go, and someone suggested using an ice bucket. "That is so mortifying for whoever has to deal with my pee later. I'm so sorry," she said.
It all conspired when Kendall was having a panic attack and she explained her glam team "I am legit going to cry — but it is fine. I don't know, I am just having a panic attack," as they made their way towards the red carpet. "The weirdest part about anxiety and panic attacks is they just come sometimes for me and there's no rhyme or reason. I didn't invite it. It just happens."
Although, in an attempt to calm down, she only needed water and a bathroom break. "Do you actually have [an ice bucket]? That is so mortifying for whoever has to deal with my pee later. I am so sorry," Kendall said while peeing on camera. "It is going to happen, but someone needs to throw on music because I can't let you all listen to me pee."
Weeks ahead of the Met Gala, which took place in May, the 27-year-old star opened up about her mental health struggles.
"It's important to have a space that's just for you where you can let out your happiness. Your anger, frustrations, and stress, the things that are freaking you out, the things that are making you happy and even just ideas," The Kardashians star, who is currently dating Devin Booker, told i-D magazine in February.
"I was having a panic attack two nights ago, and I was just like, 'Oh, but you know what? I'm just going to pick up this book and try to forget.'"
Image Source: Instagram