Happy Birthday Virat Kohli: Indian skipper And Wifey Anushka Sharma Go Trekking In Bhutan, Strangers Offer Tea
Anushka Sharma and Virat Kohli are in Bhutan to celebrate the cricketer's birthday. Virat Kohli turns 31 today. As they are in exploring the beautiful country, Anushka and Virat went trekking and had some great experience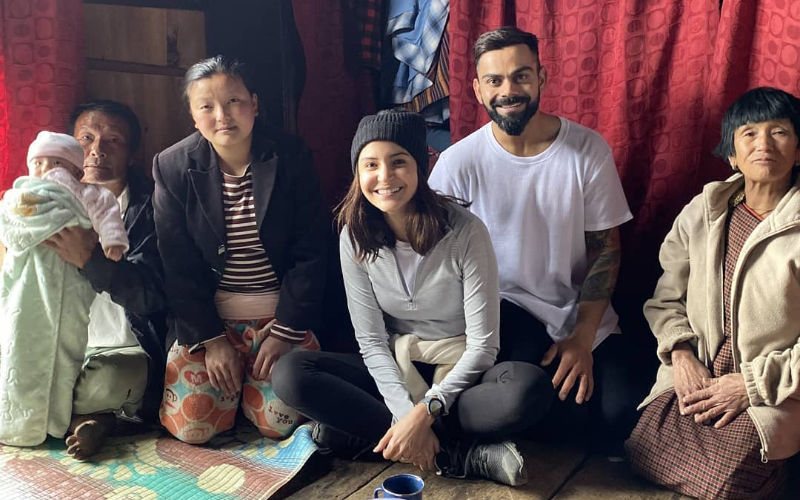 Anushka Sharma and Virat Kohli are exploring Bhutan and are doing all things touristy in the nature-filled country. After going vegetable shopping, the couple decided to climb a mountain and have some fun. Thanks to social media, we got a glimpse of all the amazing time they had in doing so. Anushka shared her experience on Instagram and talked about this random family who served them tea without knowing who they were. All this around Indian Skipper's birthday, hence, it is priceless!
Sharing pictures of the family and the animals they fed, Anushka wrote a long post describing how happy she was to have this pure and genuine experience of kindness. She wrote, "Today , during our 8.5 km uphill trek we stopped by a small village on a mountain to pet and feed a baby calf who was born just 4 months ago . While we did that the owner of the house asked us if we were tired and wanted to have a cup of tea ? So we went in to the home of this beautiful and warm family who had absolutely no idea who we were and yet they treated us with such warmth and love."
Anushka went on to add that they 'live for such moments of genuine, simple & pure human connection' and that it is 'a memory we will cherish forever.' Check out the post below:
Well, what can be better than resting in the lap of nature on your birthday with your wifey by your side? Happy Birthday Virat Kohli. May you have more such amazing experiences.
Image Source: Instagram/anushkasharma