Hotness Alert! Padma Lakshmi Goes NUDE As She Shares Her PIC From Bathtub, Flaunts Her Cleavage, Sexy Legs; Fan Asks, 'Can I Join You In Bath'
American model Padma Lakshmi goes nude as she posted her piping hot photo from copper bathtub and it is breaking the internet!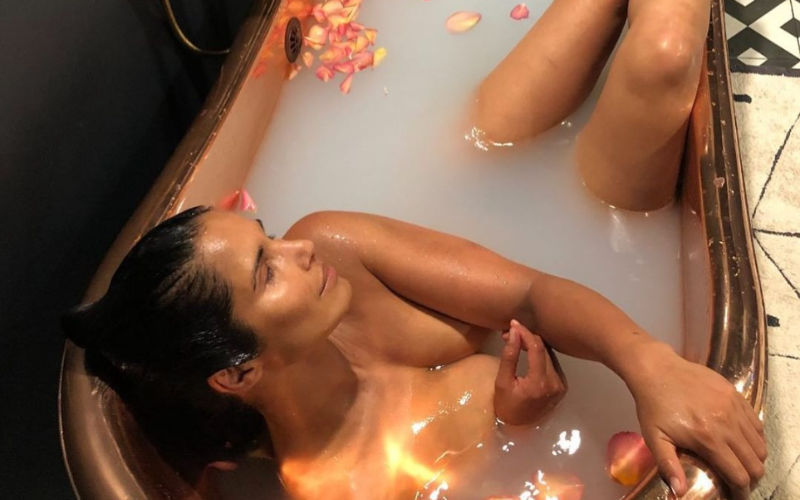 Indian-born American author and model Padma Lakshmi is known for her striking presence on social media. Be it dropping her oh-so-hot photos or giving a glimpse of her happy moments, the television host ensures to keep her loyal fans and followers all hooked and entertained. Padma's smoking hot pictures often break the internet and keeping up with this trajectory, she shared a sizzling photo of her from the copper bathtub. Many fans believed she was nude while posing in the bathtub with style and perfection.
Taking to her Instagram handle, Padma Lakshmi shared her photo wherein she could be seen lying in a copper bathtub showing off her cleavage and sexy toned legs. She had her eyes closed while posing for this racy candid shot that has set the internet on fire. Needless to say, it's difficult to take our eyes off Padma in this smoking hot picture. Sharing the post, the model wrote, "Three years ago today."
Soon after the model shared her picture, fans and netizens flocked to the comments section to shower praises on Padma. Even one user joked, "can I join you in bath." Another commented, "How do you get prettier with age?." One of the fans mentioned, "You are blessed with a beautiful body."

On the professional front, Padma Lakshmi is widely known to host the cooking competition Top Chef on Bravo since 2006. She was awarded with Primetime Emmy nomination for Outstanding Reality Host. Lakshmi has also created and hosted the critically-acclaimed show 'Taste the Nation with Padma Lakshmi', which explored the food and culture of immigrant and indigenous communities across America.