Internet Finds Kareena Kapoor's Doppelganger Asmita Gupta, Influencer Bears An Uncanny Resemblance To Bebo; Can You Spot The Difference?
Internet has found Kareena Kapoor Khan's doppelganger and she looks exactly like Bebo, scroll down to see her pics and videos!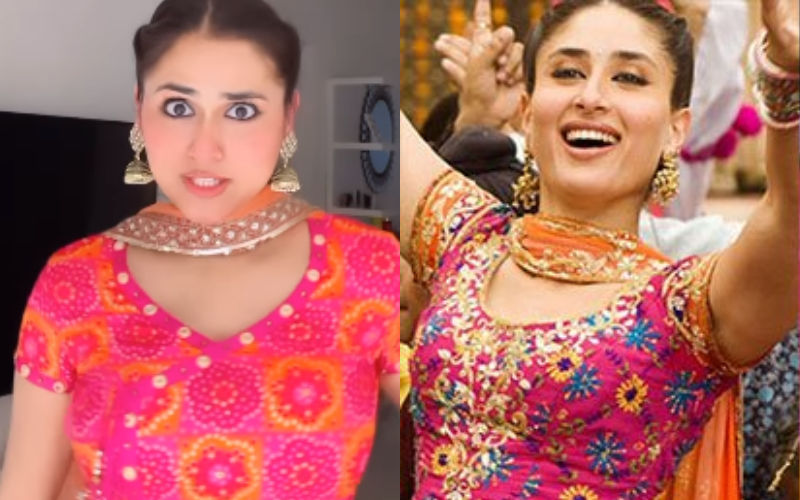 Internet often finds doppelgangers of prominent celebrities, be it Bollywood or Hollywood. Several B-Town stars' doppelgangers have made the headlines and now netizens have found the lookalike of Kareena Kapoor Khan and she is influencer Asmita Gupta. A video of Asmita dancing to 'Nagada Nagada' song from the film Jab We Met has taken the internet by storm and her uncanny resemblance to Bebo has left everyone stunned.
Asmita Gupta, who has 140,000 Instagram followers on her Instagram handle often, shares her videos and reels of enacting Kareena's famous scenes from her films. Recently, she posted a clip where she was seen dressed up like Kareena and grooved to her peppy number 'Nagada Nagada' which was originally featured on Shahid Kapoor and Kareena. Clad in a pink ensemble, Asmita danced and lip-synced to the popular track and her killer expressions and moves will convince you that she looks exactly like Kareena. Her video and striking resemblance to the Uda Punjab has left fans in awe.
Reacting to her video, one user commented, "Omg i thought its Kareena." Another said, "Actually thought that was kareena at first glance lol. Such a great job at recreating the look!." One comment can be read, "Yes somehow you look like kareena but do something new act your own style."

Meanwhile, Ashmita is a quite popular influencer on Instagram and is known for her striking presence on the photo-sharing app. She often shares her amazing dance reels and videos imitating Bollywood stars, especially Kareena. She is widely known for looking like a carbon copy of Bebo.