Ivanka Trump Shares Pic Of 15-Year-Old Jyoti Who Pedalled For 1200 Km Carrying Injured Father; Receives Flak For Calling It 'Beautiful Feat Of Love'
Ivanka Trump, US President Donald Trump's daughter receives flak as she shared 15-year-old Jyoti's picture cycling with father for 1200km and called it a 'beautiful feat of love'.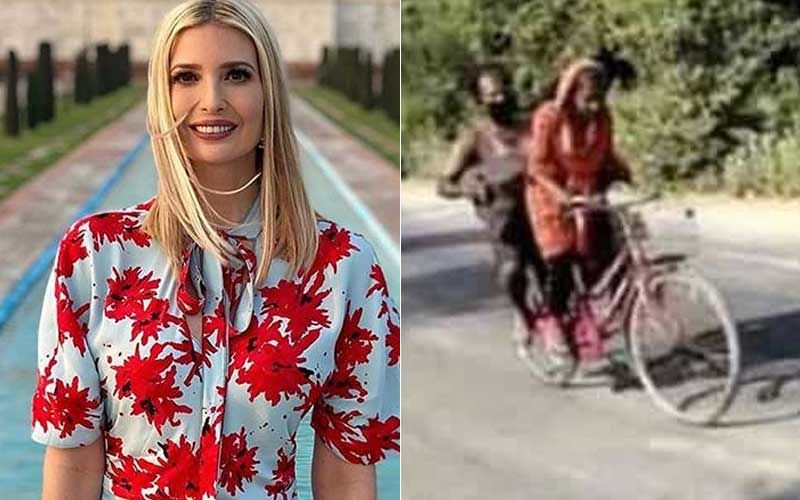 A couple of days back, a Bihar girl named Jyoti Kumari made headlines for cycling 1200 plus kilometres carrying her injured father. The 15-year-old girl cycled her way home with her father Mohan Paswan riding pillion. Jyoti cycled for seven days, covering 1,200 km to get to Bihar's Darbhanga just like several other migrant workers who are trying to get back home. Impressed with her, the cycling federation will invite Jyoti Kumari to appear for a trial next month.
Taking to Twitter Ivanka Trump, US President Donald Trump's daughter shared a picture of Jyoti Kumar cycling with her injured father. Ivanka received flak as she called the crisis 'beautiful feat of love'. She captioned it, "15 yr old Jyoti Kumari, carried her wounded father to their home village on the back of her bicycle covering +1,200 km over 7 days. This beautiful feat of endurance & love has captured the imagination of the Indian people and the cycling federation!"
Bollywood filmmaker and photographer was amongst the first to react. Atul Kasbekar wrote, "Of all the absurd whataboutery n assorted wtf(s) this one story of the cycling fed calling this girl for trials has to be a seriously twisted joke"
15 yr old Jyoti Kumari, carried her wounded father to their home village on the back of her bicycle covering +1,200 km over 7 days.

This beautiful feat of endurance & love has captured the imagination of the Indian people and the cycling federation!🇮🇳 https://t.co/uOgXkHzBPz

— Ivanka Trump (@IvankaTrump) May 22, 2020
Of all the absurd whataboutery n assorted wtf(s) this one story of the cycling fed calling this girl for trials has to be a seriously twisted joke

— atul kasbekar (@atulkasbekar) May 23, 2020
Fixed it 👇

15 yr old Jyoti Kumari, carried her wounded father to their home on the back of her bicycle covering +1,200 km over 7 days.

This ugly DEfeat due to poverty & government's failure has had every true Indian's head hang in shame.

👉No wonder, you have failed to MAGA!

— Saahil Murli Menghani (@saahilmenghani) May 22, 2020
While another said, "Are you seriously this clueless? This kid and her family had to go through this horrific experience because of India's ill-conceived total lockdown which has resulted in a humanitarian disaster, not because she's aspiring to be a professional cyclist."
Are you seriously this clueless? This kid and her family had to go through this horrific experience because of India's ill-conceived total lockdown which has resulted in a humanitarian disaster, not because she's aspiring to be a professional cyclist.

— Rupa Subramanya (@rupasubramanya) May 22, 2020
what's beautiful in that Ivanka ? don't you see her helplessness . This is the complete failure of Modi Govt.

— Ꮶαuѕтuвн (@iKaustubhMishra) May 22, 2020
This wasn't beutiful, it shows that govt doesn't care for the poor and underprivileged. Don't romanticize poverty.

— BaBu (@Babu90_) May 22, 2020
For a brief moment I thought that she was being sarcastic and was trying to hold up a mirror to her Modi Uncle. But then I realised that these people are basically made up of the same stuff.

— Rahul Mukherji (@RahulMukherji5) May 23, 2020
A few other comments read, "what's beautiful in that Ivanka? don't you see her helplessness? This is the complete failure of Modi Govt."
Images Source: instagram/ivankatrump/