Jimmy Kimmel Faces Backlash From ARMY For Comparing BTS To COVID-19; Says 'They're Both Very Dangerous'
Jimmy Kimmel's latest comment comes from his live session, which featured actor Ashley Park as the guest.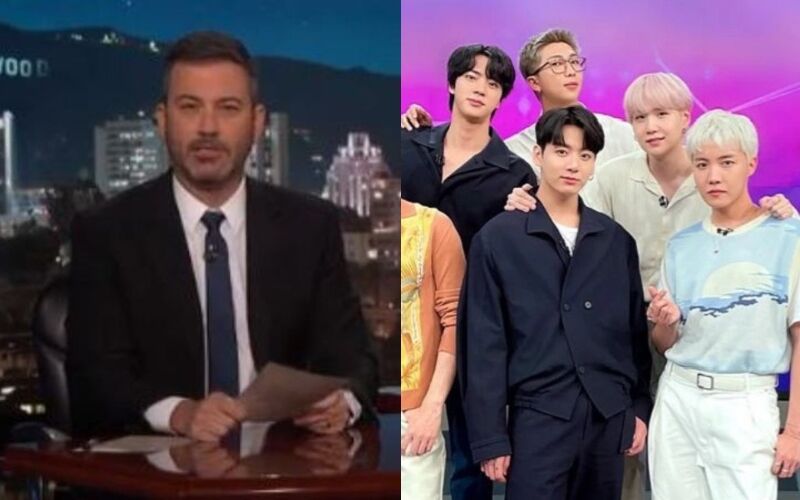 BTS' popularity sees no end and they are capturing the world with the performance and style. However, they are often subject to backlash for multiple reasons. Incidentally, Talk show host Jimmy Kimmel compared BTS with Covid-19 calling them 'both very dangerous'.

Kimmel's latest comment comes from his live session, which featured actor Ashley Park as the guest and spoke about singing BTS' Dynamite on her show Emily in Paris.
The TV host spoke about BTS appearing on his show and said, "You sang a BTS song on the show and I wonder what the fallout from something like that is because I know that. We have had BTS on our show and people are absolutely their fans, like they will camp out, and they are probably out in the parking lot, waiting for the next time they come on. They are absolutely crazed for these guys. You have to be careful with an ARMY because they could attack."
Responding to the same, Ashley said that she is ARMY. On Ashley Park's revelation of being a part of the fandom, he tried to ease the waters by saying, "then you won't get attacked".
As the actor detailed her feelings as a fan, she also mentioned how the BTS members opened up their personal Instagram accounts just in time for the second season of 'Emily in Paris'. The late-night show host remarked how "even Donald Trump is not allowed to have that" referring to the suspension of the former US President's account.
An excited Ashley then spoke about how she performed to Dynamite and it was shared by BTS members RM and V on their Instagram accounts. She revealed that at the same time her body felt different and she thought she was going into shock.
However, she said that after getting tested she was diagnosed with the Omicron variant of Covid-19. At this, Jimmy said, "Thought it was BTS fever? Oh, they are both are very dangerous. You are lucky to come out of those alive."
Well, the host's racist comments definitely enraged the fans and they have called him out for the same.
Image Source: Instagram/