Journalist Documents Her Experience Flying Overseas During Coronavirus Pandemic; It's A Total FLIP Of What We've Ever Known-WATCH
Journalist and photographer Laurel Chor recently gave us a peek into what it's like to fly overseas in times of Coronavirus. The entire process at the airport has undergone a huge change with extensive testing and quarantine measures taken by the airport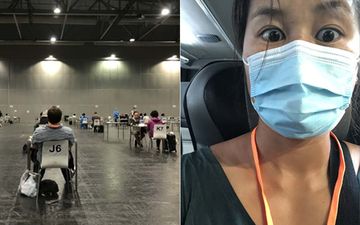 The current COVID-19 pandemic has changed everything about the way humans live and has restricted all day to day to activities that each one of us took for granted. One of those activities has been traveling which has been restricted almost everywhere if not shut down completely. International travel has been restricted and not experienced by anyone in the last month or so as every country has taken steps to prevent the spread. Only a few flights are functioning for medical professionals and expats stranded in foreign countries. However, the entire process at the airport has undergone a huge change with several checkups keeping in mind passengers' safety.
Journalist and photographer Laurel Chor recently gave us a peek into how it's like to fly overseas in current times and it's a total flip of what we have ever known. Laurel is a journalist and a photographer who flew back from France to Hong Kong and documented the whole experience. She shared a video on Twitter that showed every process starting from sanitisation of all the equipments on the flight to using a Ziploc pouch to prevent the belongings from the reach of anyone.
The whole story was shared as a thread on Twitter and has gone viral since. Social distancing is maintained at every step and a health declaration form is to be filled by the passenger who also needs to put on a tracking bracelet around their wrists. The passengers go through several phases of quarantine even after reaching their destination.
I've landed in Hong Kong after flying from Paris CDG, via London Heathrow. I now have to wait ~8 hours before I get my #COVID19 test results and thus have ample time to tweet about my experience. pic.twitter.com/jCDPuwrTzL

— Laurel Chor (@laurelchor) May 14, 2020
The captain on my LHR > HKG flight said there were about 100 of us on the plane. That means the Boeing 777 was at 1/3 of its capacity. Every single passenger (except someone who apparently had special permission to connect to Brunei) will enter some sort of quarantine.

— Laurel Chor (@laurelchor) May 14, 2020
A health dept official officially signed & stamped my quarantine declaration in duplicate. He was nice & friendly, explaining that I could go yumcha on the morning of the 28th. He asked if I had someone to take care of me & if I had a thermometer. When I hesitated, he gave me one pic.twitter.com/A2zGHZUdNz

— Laurel Chor (@laurelchor) May 14, 2020
After receiving my bracelet and my thermometer, I went on through immigration and got my bags as normal. On the other side we were directed onto buses and young men in full protection gear helped load our bags onto the bus. pic.twitter.com/ldU2nDQNYF

— Laurel Chor (@laurelchor) May 14, 2020
After dropping off our bags in one place and getting luggage tags; we got back on the bus as were dropped off at another facility. There we stood in line to get our testing packs. A health worker gave us our tag number, our packs, and explained how to conduct the self-test. pic.twitter.com/LFg3EVHjj7

— Laurel Chor (@laurelchor) May 14, 2020
Here's a time lapse of me awkwardly doing my self-test in my booth: I made a "kruuuar" sound as instructed to hock up my deep-throat saliva & spit it into a tube (w/ the help of a paper funnel) and double-bagged it. Several ppl made sure the tube was upright when I handed it in. pic.twitter.com/XzPNlTkQdN

— Laurel Chor (@laurelchor) May 14, 2020
I thought someone would swab me and wasn't expecting a self-test but it was simple enough. When it came time to hock up deep throat spit, I was grateful for the thoughtful courtesy of the private booths. pic.twitter.com/bOPqjI82vm

— Laurel Chor (@laurelchor) May 14, 2020
Finally, we were taken to a big hall w/ numbered & distanced individual tables with chairs. Different flights are assigned different rows. Each table comes with a trash bag and a couple information sheets. pic.twitter.com/hoQ64kRc4M

— Laurel Chor (@laurelchor) May 14, 2020
One well-prepared mom traveling alone with a toddler brought a small beach tent and set it up next to her table, so that her child could be more comfortable. She's gone, so I'm hoping the staff prioritized her or gave her a better setup.

— Laurel Chor (@laurelchor) May 14, 2020
Here are the welcome note and "house rules" that were waiting for me on the table when I got here. I wonder if people being visited by friends and family while waiting here was an actual issue at some point. pic.twitter.com/etPAYBnAn9

— Laurel Chor (@laurelchor) May 14, 2020
Upon arriving at my designated waiting table, I had to fill yet another form that officially changed my quarantine location from the testing center to my quarantine address (i.e. my flat). Instructions were on the table. Someone eventually came and collected the form. pic.twitter.com/qiR1KEtIT3

— Laurel Chor (@laurelchor) May 14, 2020
They have announced they are releasing my flight and will be calling out tag numbers and seat numbers! It's been almost 7 hours since I arrived here. They are on tag #349. I'm #423. This is like the best game of bingo ever pic.twitter.com/XB8HOV59xG

— Laurel Chor (@laurelchor) May 14, 2020
I am negative for #covid19!!! I am free to go! I have to collect a sample again on May 25 and they've given me a folder with a test pack + other info. I'll unbox all these goodies for y'all later but first I'm outta here!! pic.twitter.com/ecjXB8nQSS

— Laurel Chor (@laurelchor) May 14, 2020
Image Source: Twitter/laurelchor
They say the best things in life are free! India's favourite music channels 9XM, 9X Jalwa, 9X Jhakaas & 9X Tashan are available Free-To-Air. Make a request for these channels from your Cable, DTH or HITS operator.