K-Pop Idol HyunA Announces BREAK-UP With Longtime Boyfriend Dawn; Heartbroken Fans Say, 'Don't Believe In Love Anymore'
HyunA took to her Instagram to announce her breakup with her boyfriend Dawn after six years of dating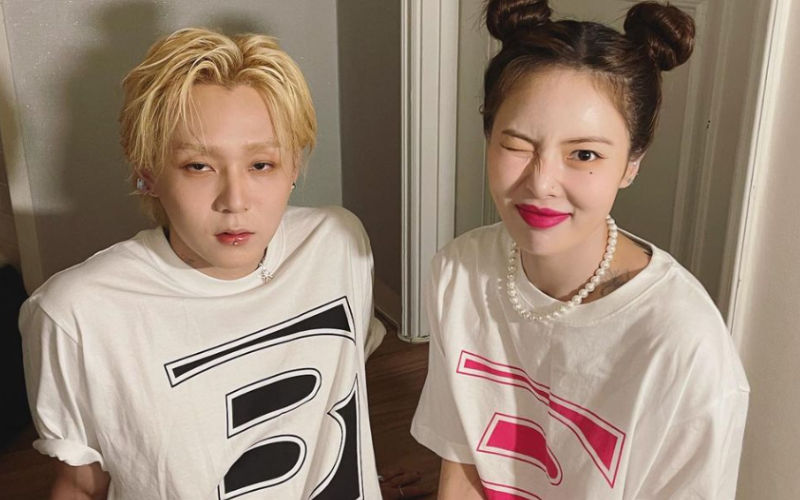 K-pop stars Dawn and HyunA broke many stereotypes, one of them being dating a fellow singer. With entertainment companies keeping a tight leash around their celebrities to maintain their images in front of the audience, the duo took a brave step by announcing their relationship to the public in 2018.
After being together for six years, Kim Hyun-ah, in a statement posted on Instagram, has announced her separation from her longtime boyfriend, Kim Hyo-jong, also known as Dawn. Taking to the social media platform, she expressed her gratitude to her fans and shared that they will continue to work together as colleagues. She wrote in Hangul, "We broke up. We decided to remain as good friends and colleagues from now on. Thank you always for your support and for looking over us fondly."
Check out her post here:
Soon her post went viral and left fans broken hearted. While many sympathised with her and expressed their support during such a tough time, some fans shared how they have stopped believing in love altogether. One fan said, "Ain't no way….after everything why…why….you guys were such a huge inspiration with break the standards,dating,and getting engaged in the Kpop scene….why. I respect and understand you guys decision bc yk not everyone stays together until the end…at this point I'm just wondering what is love?"
Another fan said, "I don't believe in love anymore guys." One fan wrote, "I can understand that. We love you and I wish you can love the person who deserve it. Do not care about other people's opinion and keep being yourself. Love who you wanna love and always put yourself in the priority and stand up for yourself. You're so braveeee! And congratulations for new life!"
For the unversed, the duo began dating in 2016 and made their relationship official in 2018. They amassed a huge fandom together. It was previously rumoured that they were engaged as soon as their engagement-related pictures went viral on social media. HyunA and Dawn both left P Nation, which was led by Psy, in August. The couple was also laid off by Cube Entertainment after announcing their relationship.