Kanye West's Ex Juliana Nalu Flaunts Her Assets As In Black Skimpy Bikini As She Celebrates Christmas On Beach-REPORTS
Kanye West showed off her precious assets on the beach in the skimpy black bikini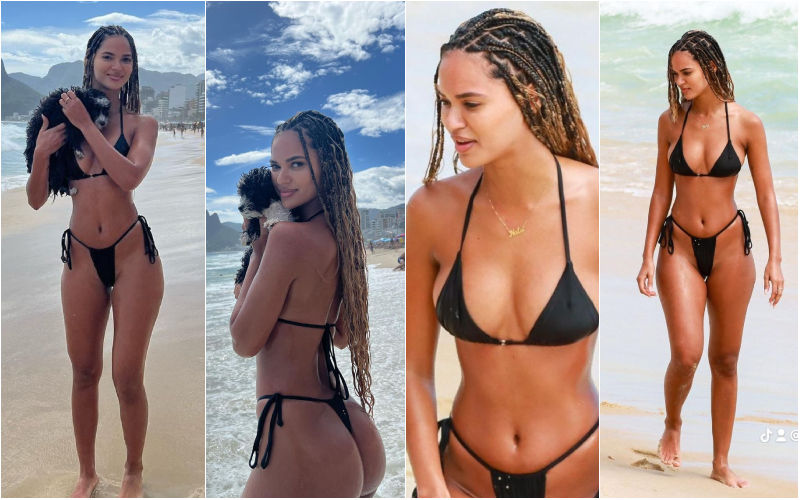 Kanye West has a long and extensive dating history with beautiful women. Recently, Kanye West's former girlfriend Juliana Nalu was seen sizzling in a hot slinky black micro-bikini, and she has effortlessly charmed the internet with her hot looks. The 24-year-old Brazilian model celebrated Christmas on the beaches of Rio De Janerio with her dog and, named after her birthplace.

The model showed off her precious assets on the beach in the skimpy black bikini. Over the bikini, she wore a triangle halter top and string panties that were knotted above her hips, a name necklace with her last name Nalu in gold, and a ring on her middle finger. Her golden highlights and waist-length braids completed her sexy outfit.
Later, she carried her puppy on her shoulder as she walked along the beach and waded in the sea. Later, she also wore her hair up and sunglasses with large frames. She strolled along the shore while carrying her dog on her shoulder while chatting amicably with others on the crowded beach.
Back in November this year, Nalu was spotted with Kanye West, however, the couple allegedly ended their relationship after only two short months of dating. After dating Kanye West, Kim Kardashian's ex-husband and the father of her children, for two months, the model announced on social media on December 5 that she was single, reported Meaww.
The model confirmed her split with West after she replied to a fan who questioned how she could date an anti-Semite, "I'm single, thank you for your concern" in a post she shared several photos of herself posing in a ripped baseball hat, baggy jeans, and rubber boots.
The former pair was first assumed to be dating after their outings together in New York City earlier in October.
Image Source: Instagram/nikkioh_presents