Khloé Kardashian Shares New Seductive Pics With Perfect Response For Trolls Claiming She 'Changed Her Face'-WATCH
Khloé Kardashian took to her Instagram handle and shared her aversions on the comments she received on the new look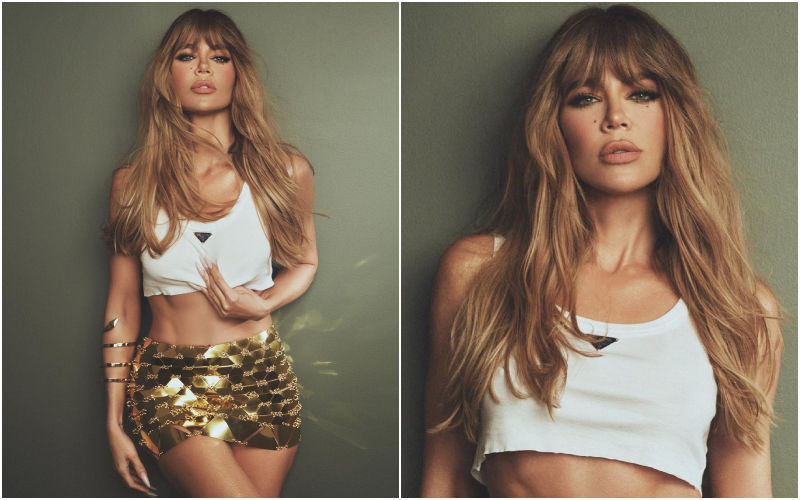 Khloé Kardashian is often targeted for multiple reasons and her recent Instagram posts saw a similar outcome. Now, she has finally raised her voice against the trolls who claimed that she 'changed her face' for her latest photoshoot.

The 38-year-old reality star took to her Instagram handle and shared her aversions in the comments she received.
The Keeping Up With the Kardashians alum shared a series of pictures in her recent IG post which featured her posing seductively. Clarifying the claims made by the netizens, Khloé wrote, "Fun fact: I wore clip-on bangs for this shoot. It was fun to give a different look and not be committed. I am surprised with how much I liked the bangs even though they changed the shape of my face. Would you ever get bangs?"
The post comes shortly after the 38-year-old reality star flaunted her fierce and sultry new look in a cover shoot for Sorbet magazine and made a 'fun fact' confession about her new hairstyle.
However, Khloé's followers haven't convinced her changing looks were due to her new hairstyle and accused her of having cosmetic work done.
"I don't think it was the bangs that changed your face," one person commented. Another added: "are you serious no.... It WAS the doctors. Smh," while a third wrote: "Ohhh it was the bangs that changed your face so much in these pics?"
Khloé responded to the negative comments and said that she has been 'open' about the work she's had done over the years.
A Mirror report quoted Khloé Kardashian saying, "I openly talk about my nose job and anyone who 'looks up' to me must know I've lost over 60 pounds over the years. So recently the only change is the bangs. I didn't know I had to do a running list."
She added: "Either way, attacking someone is sad in my opinion. Unprovoked is the saddest part. If you are offended or don't like what you see, you simply don't have to say anything. I hope you have a great first week of the new year. Thanks for making mine so jolly."
Fans have also speculated over that her changing looks for years with many accusing the reality star of having a nose job, Botox and filler.
Image Source: Instagram