Kim Kardashian Damages Marilyn Monroe's $4.8 million Dress Beyond Repairs; Enraged Fans Say, 'This Is CRIMINAL'-READ BELOW
The Marilyn Monroe Collection shows that the dress has been severely damaged with crystals falling off, various splits near the zipper and sheer material shredding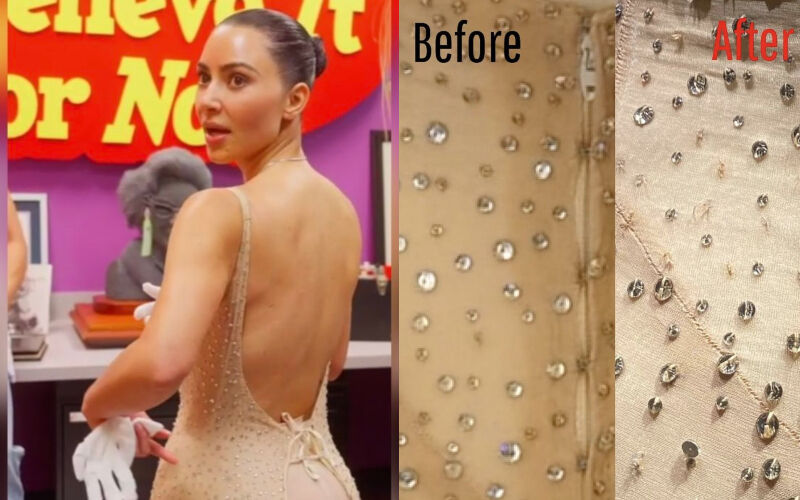 Kim Kardashian has faced harsh criticism for wearing the infamous Marilyn Monroe dress to the 2022 MET Gala and new reports suggest that it has suffered irreparable damage. The latest report comes after a series of new pictures went viral on social media.

The stunning dress is valued at $4.8 million and she reportedly wore the iconic dress for her strut down the red carpet, before changing into a replica. The new pictures shared by The Marilyn Monroe Collection shows that the dress has been severely damaged with crystals fallen off, various splits near the zipper and sheer material shredding.
Meanwhile, the viral post has left the Twitter users enraged and many slammed her for damaging the piece of 'Hollywood history'. A user said, "The fact that Kim Kardashian is getting away with this is CRIMINAL." "It feels illegal," said another.
Several experts including the original sketch designer Bob Mackie expressed his concerns about Kim wearing the dress for the event. Mackie who reportedly drew the sketched the original dress believes that the gown is a part of the costume history and should be preserved as such.
"I thought it was a big mistake," Mackie told EntertainmentWeekly, while previewing the new Turner Classic Movies' fashion on film series "Follow the Thread".
Mackie was only 23 when he did the sketch for the gown without an inkling about its history-making future.
"(Marilyn) was a goddess. A crazy goddess, but a goddess. She was just fabulous. Nobody photographs like that. And it was done for her. It was designed for her. Nobody else should be seen in that dress," he said.
He also voiced his fellow historians' concerns and said that wearing the gown was damaging to its preservation and structural integrity.
"There are all the issues with the actual preservation of the dress and things like oxygen can affect a dress. Usually, these outfits are kept very much in controlled environments and we see that with the Met. The Costume Institute is so careful about how they are handling these historic items. So, it was quite alarming that she was able to wear it. I personally wish she wore a replica instead of the real thing," Malone said.
For the unversed, Ripley's paid $4.8 million at auction for the dress to have it part of its collection.
Kim was originally denied use of the dress before Ripley's ultimately said yes.