Kim Kardashian Photoshops Grandmother MJ, Accused of Wiping Off Her Wrinkles! Fans Ask, 'Why does grandma look younger?'
Kim Kardashian has once again received criticism for her 'altered' images on Twitter and Instagram but this time she edited her grandmother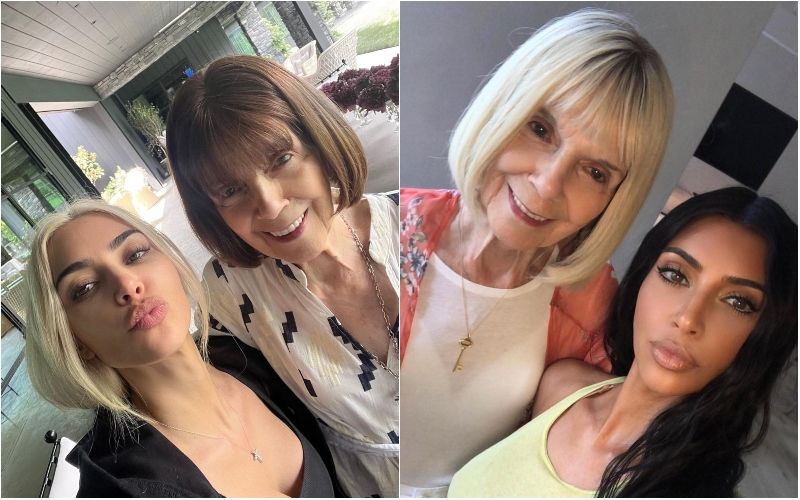 Kim Kardashian has once again landed herself in a pool of controversies as she does not seem to plan on stopping the use of photoshop. The TV reality star does not plan on escaping the accusations of massive 'photoshop fails', making such visible alterations to her figure and face in photos that they look unrealistic.

The reality star has once again received criticism for her 'altered' images on Twitter and Instagram, however, this time she is not in being criticised for photoshopping herself, but her grandmother!
Well, from the looks of it, Kim does not plan on giving up her photoshopping shenanigans.
The Kardashians star took to her Instagram handle on July 26 to wish her grandmother on her birthday and expressed love for her. Posting a number of pictures of herself and her grandmother from completely different eras of their life. She captioned the set of pictures with "The Queen MJ has turned 88 today! Grandma, I am so grateful to have you as someone to look up to and I love you so much."
But, observant netizens noticed, that compared to the rest of the set, the first photo — possibly the most recent photo — seemed a little more polished and touched-up.
"Do you think Grandma Kardashian has had any work done? Just a random question. When compared to the family, she appears quite natural". That single post in an online chat room sparked a flurry of responses. One person responded, "Yeah, I think she's natural, but Kim definitely photoshopped her," and another retorted, "There's a 99.999999 percent chance this picture is photoshopped."
Another also asked, "Why does grandma look younger now than in the picture from 20 years ago?" while also posting a laughing emoji. And one person said plainly, cutting through any 'implied' jabs, "she blurred out MJ's wrinkles.
Kris Jenner, 66, was the first to begin the birthday celebrations for her mother, Mary Jo Shannon, in an Instagram post of gratitude.
Sharing a series of pictures, Kris, 66, wrote, "Happy birthday to my very beautiful mommy M.J.!"
She continued, "You are my best friend, my heart and my hero! Thank you for all you have done for me and every single memory we have made together!" She added, "I thank God for the blessing to have you as my mom and I am so thankful for all we have been through together and the family we have built. I love you more than you will ever know Mom!! Xoxo"
Image Source: Instagram